NEWS
At Home With Pauly D in Las Vegas!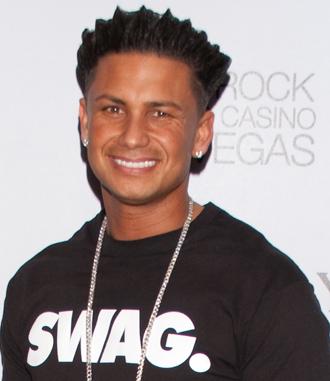 Paul "Pauly D" DelVecchio, the lovable nice guy from the Jersey Shore gang, is hardly laying low during his time between seasons of MTV's hit show. The GTLer is starring in his own spin-off series, The Pauly D Project, he just began his residency DJ stint at Harrah's Resort in Atlantic City, N.J., and he's hard at work on an album for 50 Cent's record label.
Article continues below advertisement
Between all the work, partying, and hair gel sessions, the 31-year-old took time to give OK! a tour of the digs where he lived while filming The Pauly D Project in Las Vegas Palms Casino Resort. He also dishes about the show, The Situation's troubles and why he wants to be a godfather — of Snooki's baby.
OK!: Your show recently debuted. How does it feel to have your own spin-off?
PD: It's amazing, amazing! It's a really exciting project for me because I'm showing the world a little bit more about myself. They've only known me from Jersey Shore until now. They only know that I can party at the share with these people that became my friends. Now they get to meet my real friends, see where I come from, meet my family and see what it's like being a touring DJ.
OK! NEWS: PAULY D SIGNS WITH 50 CENT'S RECORD LABEL
OK!: What does your family think of the new show?
PD: My family has been supporting me since day one with all of the decisions that I have made with the whole Jersey Shore thing and everything. So now I am going to put them in front of the camera for once. It's funny to see my mother, she's a little camera shy. My dad, he's just, like, whatever.
FOR MORE ON PAULY D'S NEW SHOW AND AWESOME PAD IN LAS VEGAS, PICK UP THE NEW ISSUE OF OK! IN STORES NOW!