NEWS
Host Jimmy Fallon Worried About Betty White at the Emmys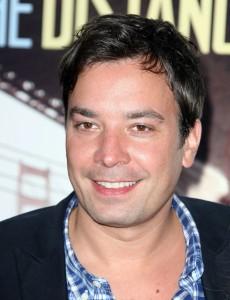 Funny man Jimmy Fallon is all set to host Sunday's Emmy Awards, but the former Saturday Night Live star is a bit worried about one of the show's expected guests, Betty White, drinking too much!
The Late Night with Jimmy Fallon host joked to Star Pulse that he can only hope the 88-year-old doesn't show up to the ceremony intoxicated.
JIMMY FALLON GEARS UP FOR EMMYS
"Dear Lord. It is just a mess. It is just a mess. We were out a John Mayer concert the other night, it was a mess getting her home," Jimmy joked about Betty.
Article continues below advertisement
In all honesty, Jimmy knows that Betty, who recently hosted her own episode of SNL, "is a great sport!"
EMMYS HOST JIMMY FALLON NEEDS YOUR TWEETS
Trying not to worry too hard about the Golden Girl's behavior, 35-year-old Jimmy has been attempting to get himself ready for the big night by drinking a special concoction.
"It's a mixture of kale, spinach and cucumber. It tastes like lawn clippings," Jimmy told Star Pulse on Wednesday, "I need to be in shape so I don't run out of breath standing at a podium, reading names."
The 62nd Annual Primetime Emmy Awards will be broadcast Sunday on NBC at 8 PM EST.