NEWS
HOT GALLERY: Fergie Ferg's Fierce Fashion at NYC Concert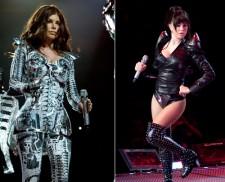 Fergie looked fierce last night as she worked the stage — and the crowd — at a Black Eyed Peas concert at Madison Square Garden in NYC. The Dutchess had a number of costume changes, and was all about futuristic glam silver-plating, shoulder pads, studs and spikes!
In fact, if looks/fashion could kill, Fergie might be dangerous in some of her get ups with protruding embellishments.
Maybe she's taking fashion tips from Rihanna.
Article continues below advertisement