NEWS
HOT GALLERY: Kate Gosselin Goes Glam For Jimmy Kimmel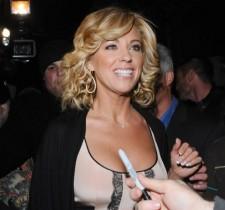 Future Dancing With The Stars contestant, Kate Gosselin, soaked up the paparazzi attention last night after her appearance on Jimmy Kimmel Live. Kate hit the town in a rather cleavage-baring dress as she prepared to party it up Hollywood style!
The mother of eight admitted to Jimmy Kimmel last night that dancing is not one of her strong suits.
"I cannot dance... No. I really want to learn how to dance, so we will see."
Article continues below advertisement
How will the reality star manage her Plus 8 brood and a full time dance rehearsal schedule?
OK! NEWS: DANCING WITH THE STARS CONTESTANTS ANNOUNCED
"I have started to practice. Well, I'm obviously I'm here, and I'm going to travel to Pennsylvania. My dancing partner will come with me," Kate told Jimmy. "I'm going to practice in the basement while the kids are at home — or sleeping, so the whole goal is to be at home as much as I can and come back and forth every week."
"If I can cook and dance, I will be doing really well. No, in the basement we are going to move everything and put in a little makeshift dance floor."
Kate continued her press junket for DWTS this morning with partner Tony Dovolani on Good Morning America. The team sat down with George Stephanopoulos to discuss their partnership.
The reality star said she is not intimidated by the physical challenge.
Article continues below advertisement
OK! NEWS: JON GOSSELIN'S KIDS COULD FIX HIS FINANCES
"That's the part I'm looking forward to," she said. "I mean, beat my butt because I need to do it. That's the part I'm not afraid of."
So what is Kate afraid of?
"Well, honestly, my mind is willing to do it. It's just like making my body figure it out, that's the scary part for me and to be very honest," she said.  "Obviously, I have eight kids, and I'm a mom and I have a very full schedule anyway and it's fitting in the time to practice enough. The kids come first."
The kids are very supportive of their mom!
"I actually only told them last night, right before it was announced," she said. "I don't typically tell them ahead of time for obvious reasons, and my nine-year-olds were very excited. They asked if they could vote for me and I was like, 'Yeah! Please do!' "
Wonder what daddy Jon Gosselin will do to trump mom's latest reality fame?