NEWS
HOT GALLERY: Stylish Stars Receive Recognition at 'Elle' Style Awards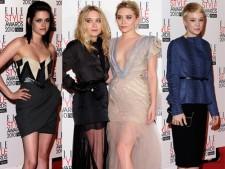 Hollywood's hottest ladies — and some of its most handsome men — stepped out in style at the 2010 Elle Style Awards in London. Kristen Stewart, Mary-Kate Olsen, Ashley Olsen, Carey Mulligan, Naomi Campbell, Claudia Schiffer, Alexa Chung, Colin Firth, Jared Leto, Leona Lewis and Corinne Bailey Rae are just some of the glamorous stars who walked the red carpet last night.
Things are heating up for Kristen with her career and her romantic life!
Article continues below advertisement
Kristen was named Woman of the Year at last night's award ceremony, she has been promoting her upcoming film The Yellow Handkerchief and just recently went public with her relationship with Twilight co-star Robert Pattinson — according to reports that RPattz spilled the beans.
Other celebs recognized for their work were Mary-Kate and Ashley, who took home the Style Icon award, and Carey, also an Oscar nominee for An Education, who was recognized for her acting prowess.