NEWS
HOT GALLERY: 'The Wolfman' Howls Down in L.A.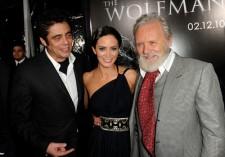 Benicio Del Toro, Emily Blunt and Sir Anthony Hopkins shined on the red carpet last night at the L.A. premiere of The Wolfman. Emily dazzled in her single-shoulder dress and had one of her hottest accessories with her on the carpet — fiancé John Krasinski.
Emily and John seem to know how to be a real couple under the magnifying glass of the Hollywood limelight.
The 26-year-old Golden Globe winner admitted it's important to remain quiet and private about one's relationship.
Article continues below advertisement
Wonder how Emily felt at last night's premiere? The actress confessed to feeling sick when she first saw some of the film's grotesque scenes.
Set in the late 1880s, The Wolfman is about an American who experiences an unsettling transformation after returning to his home in Victorian-era Great Britain and being attacked by a rampaging werewolf.