NEWS
How Does Kim Kardashian Plan to Lose Her Baby Weight? You Won't Believe What the Star's Aunt Reveals!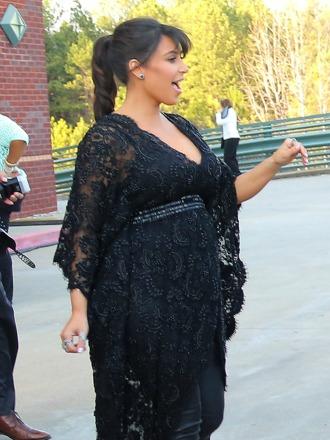 Kim Kardashian still has four months to go before she gives birth, but she's already worrying about how to shed the extra pounds she's putting on!
"The family's trying to convince Kim to relax and worry about losing the weight months from now," Kim's aunt, Joan Kardashian, reveals in Now Magazine.
Watch: Debby Ryan Talks to OKMagazine.com Readers
But Kim is having a tough time ignoring her changing shape, explains Joan.
Article continues below advertisement
"Other than her belly, which is rather flat, every other part of her body has ballooned. And this is Kim holding to a strict diet. Imagine if she let herself go?"
Watch: Gwyneth Paltrow Talks About Her Miscarriage
The 32-year-old reality star reportedly tries to stick to eating five small meals throughout the day, and she exercises religiously with her celebrity trainer, Tracy Anderson.
But if Kim's healthy habits don't result in satisfactory results quickly enough after the baby arrives?