NEWS
How to Dress Like 'Mad Men'? Just Ask the Designer!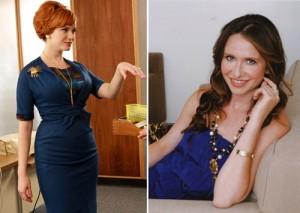 The '60s style seen on Mad Men seeped right into the fashion spotlight just like Sex And The City did to Carrie Bradshaw and her Manolo Blahniks. But when you want to go all out Mad Men, there's really only one day to do it, Halloween. This year we're expecting to see more than a one Don Draper and Joan Holloway trick or treating on Halloween. So we asked the woman behind Mad Men's fashion, costume designer Janie Bryant, how to perfect the Mad Men look.
Article continues below advertisement
"For women, definitely if you want to do Betty Draper go for the full skirt and petticoat and matching handbag and pumps," Janie explained to OK!. "For Joan, a tight wiggle dress in a jewel tone color. Don't forget the red wig, imported, and the pen on the chain. For Peggy, a pleated skirt is great and then a blouse with a big bow at the neck."
OK! NEWS: MAD MEN SEASON FINALE MISFIRES?
Although Janie would have the ultimate costume closet to choose a Mad Men look from, don't expect to see her dressed in a blond wig as Betty Draper on Oct. 31. Says Janie, "I don't even like Halloween!"
A costume designer who hates Halloween? Perhaps it has something to do with living in L.A.
"I mean in L.A. it's so different; most of the girls are wearing the shortest, shortest, shortest skirts they can possibly find," Janie tells OK!. "I haven't been in New York for Halloween in a while and I'm going to be here this year so I'm excited to see how many people are dressed up like Mad Men characters."
Article continues below advertisement
OK! NEWS: ROLLING STONE MOVES ON WITH MAD MEN COVER
Janie is in NYC her Maybelline-sponsored launch of her new book, The Fashion File: Advice, Tips and Inspiration from the Costume Designer of MAD MEN.
"So much of the book is about becoming your own leading lady and developing your own personal style," Janie told OK!. "Mad Men has really inspired fashion designers and people wearing more 60s inspired clothing on the street. It's been really interesting to see that and also I love it!"
The crew has gotten used to seeing Mad Men look-a-likes on the streets.
"The crew passes emails and Facebook messages back and forth and say, 'I saw Don Draper and Pete Campbell on the street!'" Janie said.
OK! NEWS: JON HAMM – "WHY I WON'T GET MARRIED"
Her book is just one of the many ways she's making it easy to capture the classic Mad Men look day to day. Early this year she launched her own 60s inspired QVC fashion line, Janie Bryant MOD, and soon she'll be launching a new line of fashionable garbs.
Article continues below advertisement
"Oh, I am so excited about the next line!," she tells OK!. "There are going to be some great handbags. I just saw the samples. They're lovely! Also, I designed this amazing cabbage rose printed short little swing coat with a matching pencil skirt that I love. I also designed an amazing lace trench coat. It is so cute! I'll do those shows in February. I was feeling very romantic."
Betty Draper would be in heaven!