NEWS
'How I Met Your Mother' Pregnancy Shocker: Who Is the Father?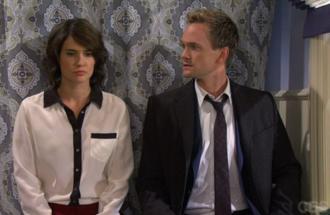 Last night's How I Met Your Mother episode ended with a big "What!?" from viewers.
OK! NEWS: HOW I MET YOUR MOTHER SNEAK PEEK OF OF KATIE HOLMES AS THE "SLUTTY PUMPKIN"
How I Met Your Mother may have been celebrating Thanksgiving last night, but really the episode was all about babies, babies and more babies.
**WARNING! SPOILER ALERTS BELOW!**
With their first child on the way, Lily (Alyson Hannigan) and Marshall (Jason Segel) decide they should move to the suburbs to have more space as a family despite Robin's (Cobie Smulders) protesting.
Article continues below advertisement
Meanwhile, Barney (Neil Patrick Harris) is feeling down about his break-up with Nora and tries to convince Ted (Josh Radnor) to adopt a child together as bros. Barney actually shows up with a real baby he says he adopted, but it turns he was only babysitting for a friend of his brother's.
OK! NEWS: HOW I MET YOUR MOTHER CLIP — LILY FLASHES BARNEY & FORCES HIM TO WEAR A DUCKY TIE
Feeling sad that he's without child, Barney looks for comfort Robin. The two aren't on the best of terms after Barney left his girlfriend for her, but she wouldn't do the same for him and leave her boyfriend. Instead, Robin threw a bomb on Barney and revealed, "I'm pregnant."
And scene — That's how the episode ended! We're still in shock and now trying to figure out who's the father.
Robin has been dating Kevin (Kal Penn), but recently slept with her ex, Barney.
Who do you think is Robin's baby daddy? We're rooting for Barney!
Watch the full episode over at CBS.com!