NEWS
How The Stars Celebrate Mother's Day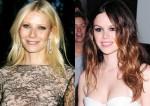 With Mother's Day festivities in full swing, stars everywhere are set to pay tribute to the woman who raised them. We ask them the most memorable gift they've given or received for the big day, and find out how they'll celebrate this time around.
Even though money is no object these days, that wasn't always the case for today's stars when they were growing up. What stands the test of time is the spirit put into the presents.
Article continues below advertisement
What is the Mother's Day gift they remember most?
Gwyneth Paltrow's mom, Blythe Danner, tells me, "Mostly the handmade things. I still have a pot with a backwards 'G' on it."
Al Roker says, "At the time, she smoked, and I made an ashtray. She loved the ashtray. I don't even remember what it looked like. It was some misshapen blob. She used it all the time, unfortunately."
"I remember Mother's Day was always about flowers at our school," Melissa Joan Hart tells me. "We'd buy little planters of flowers at my school and give them to my mom so she could plant them in the yard. But I remember making those things like a clay hand where we would try to make it hard so it could be a sponge-holder by the sink. It was supposed to be like a flower vase. Mine didn't stay shut, so it opened up and became a sponge-holder. It looked like the hand was handing her the sponge because mine didn't stay closed. I remember that: The clay hand was probably my favorite thing."
America's Next Top Model judge Nigel Barker says, "I remember once I found this water monitor, which is a kind of lizard, which had been hurt, and I stuck a big bandage on it. It was a massive old thing, and I brought it into the house on Mother's Day, and gave it back to my mother at which she screamed and ordered me out of the house with the monitor, and I never understood why. Later on, she told me she had been bitten by one as a child. It wasn't what she always wanted."
Article continues below advertisement
Kelly Bensimon says, "A note. I used to write notes all the time to my parents, like 'I love you.' Constant notes. My kids do that for me. I think that's the sweetest thing – the written word – when you actually mean it, and not in an e-mail or a text."
Her Real Housewives of New York co-star, Jill Zarin, whose Secrets of a Jewish Mother book is out now, tells me, "Probably a poem because I know that's the most meaningful thing Allyson ever gave me was a Mother's Day poem she wrote in fifth grade. I have it framed in my room."
But what did her mom do with it?
"Probably lost it. Who knows? But I've saved everything that Allyson's ever made. Downstairs in the store, I have 5,000 square-foot storage space, and I have all my stuff. It's all categorized. I'm a packrat."
Now that they can treat their moms to something really special, stars can find themselves in a bind.
What will Rachel Bilson get the woman who raised her?
"I don't know," she says. "Something really great. My mom is the best. She's an amazing person."
Hm, what does Kristen Bell love most about her mom?
"She's extremely resilient and she is an optimist even through the hardest of times," she says. "And she's done a lot of things on her own."
Michelle Tractenberg appreciates the lessons her mom has instilled in her.
"She's an extraordinary woman, and she raised me with great values like 'don't drink too much at parties,'" she says.
Happy Mother's Day to all the moms out there.