NEWS
Hugh Grant Plays Detective in Cell Phone Hackers Case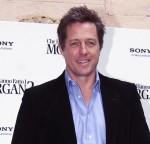 Although he's been known to star in many romantic comedies, Hugh Grant's latest role is no laughing matter. He is taking on a new gig as detective in a real life hackers case in England! Hugh, Kate Middleton and Sienna Miller are among the 91 people who were hacked by a tabloid across the pond, including a murder victim's cell phone. The publication even deleted the victim's voicemails in 2002 which made it seem to the deceased victim's parents that she was alive!
Article continues below advertisement
OK! NEWS: NEWSPAPER APOLOGIZES TO SIENNA MILLER FOR HACKING HER PHONE!
To set the stage even further, British Prime Minister David Cameron called the tactics from the tabloid, News of the World, "absolutely disgusting," according to E! News. "We are no longer talking here about politicians and celebrities," he stated. "We are talking about murder victims, potentially terrorist victims, having their phones hacked into."
OK! NEWS: HUGH, MATTHEW & CATHERINE ARE STARS ON A MISSION
So, how does Hugh fit into the picture? In April, Hugh wrote an essay indicating he taped a conversation with a former editor from the outlet who essentially admitted that his publication and "every tabloid on Fleet Street" did a variety of things to get information no matter what, cell phone hacking included.
Hugh told the U.K. Sky News, "We need to make sure the inquiry is full, public, immediate, with no funny stuff." He added, "They've asked me to be a witness in this case and I'm very happy to help them, but I cannot put all my faith in the Metropolitan Police."