NEWS
Hugh Grant Talks Fatherhood for First Time: "I Like My Daughter Very Much"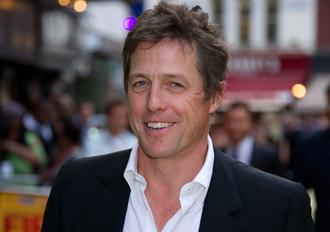 Hugh Grant is speaking out on fatherhood for the first time since his daughter was born last September and is finally revealing her name! The 51-year-old actor admits that he's warmed up to fatherhood and even likes his daughter — whose mother, Tinglan Hong, 32, he had a "fleeting affair" with — "very much."
OK! NEWS: HUGH GRANT WELCOMES DAUGHTER WITH AN UNIDENTIFIED WOMAN
The new dad has struggled to deal with the paparazzi surrounding the news of his daughter's birth and blames them for being delayed to the hospital.
Article continues below advertisement
"I was at one of the party conferences, about to give a speech and was pacing about on the end of the phone," Hugh tells The Guardian in a new interview. "I shouldn't have gone to the hospital at all, because it brought all this attention down on the mother's head. But I couldn't really resist it, so I went on the second day."
Hugh surprised himself with how being a father made him feel admitting he "did feel a little lumpy" when he met her for the first time. He actually thought he'd have to fake it!
"Um, lots of people warned me about that; they said never let anyone know, but the baby period is not that exciting. But I am excited, actually. I thought, well, I'll bluff through — but very little bluffing has been required. I like my daughter very much. Fantastic. Has she changed my life? I'm not sure. Not yet. Not massively, no. But I'm absolutely thrilled to have had her, I really am. And I feel a better person."
Article continues below advertisement
OK! NEWS: HUGH GRANT PLAYS DETECTIVE IN CELL PHONE HACKING CASE
Hugh named his daughter the English name Tabitha and her mother gave her a Chinese name.
The actor says he has felt "pride" for being a parent, but plans on being a strict dad. His daughter won't be a "trust-fund" baby saying, "I see nothing but f***-ups among my trust-fund friends. It's like 99 percent f***-ups. So I would not want to do that to my children, no."
Sounds like Hugh already has the parenting thing down!