NEWS
Hugh Hefner's in a Prenup State of Mind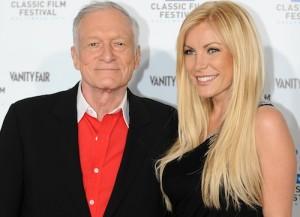 Ah, timeless romances. As the 84-year-old Hugh Hefner plans his summer wedding with 24-year-old Crystal Harris, one thing's for certain. Although love may blossom across the ages, there are some boundaries to keep in mind. The Playboy mogul has a prenup on his mind.OK! NEWS: HUGH HEFNER PROPOSES TO CRYSTAL HARRIS ON CHRISTMAS EVE
According to E! Online, Hugh mentioned, "I expect a prenup will be in the picture." As Hugh plans to walk down the aisle for the third time, he also told E! Online that his younger brother will serve as the best man when the couple ties the knot at the Playboy Mansion.
Article continues below advertisement
OK! NEWS: HUGH HEFNER'S TWINS MOVE OUT & MOVE ON
Despite the couple's 60 year age difference (yes, 60!), Hugh mentioned that age is mere a number. "I do believe that if you are healthy, age is just a number." He added, "I have had many dear friends pass away in their sixties and seventies so you don't know how long you are going to live. It depends on your DNA and it also depends very much on how you are as a person, your mental attitude, et cetera."