NEWS
Hugh Jackman's Wife "Getting Used To" Fawning Fans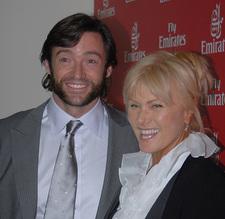 Some wives wouldn't be too happy if their husbands were the object of lusty desires by countless women around the world. But after 13 years of being with Hugh Jackman, actress Deborra-Lee Furness tells OK! it's all just part of the game.
"I'm starting to get used to it now," she explains to OK! about seeing the female attention her husband receives.
Deborra has also revealed that there's a lot more to the Wolverine star than a handsome face (and that body!). "He's got a great sense of humor," she recently told OK!. And as for the secret of their happy family, which includes children Oscar, 8, and 3-year-old Ava, she admits, "I think it's just chemistry. When things come together, they're meant to be together. It works."
Article continues below advertisement
Have a news tip or great photo you want to tell us about? Shoot us an e-mail: tips@okmagazine.com