NEWS
Hulk Hogan Is Engaged to Girlfriend Jennifer McDaniel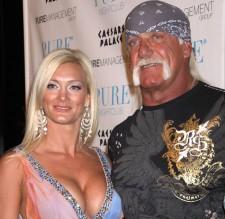 Hulk Hogan has returned to the ring, and now he's willing to walk down the aisle again — with his girlfriend Jennifer McDaniel, reports the New York Daily News.
"He is engaged and very happy," a source says. Hulk, 56, pointed out the huge sparkler on Jennifer's ring finger to photographers at LAX airport on Tuesday.
"Check that left hand out," he told TMZ. "That could be the new Mrs. Hogan."
The couple have been dating since early 2008 and Jennifer reportedly tattooed Hulk's real first name, Terry, on the inside of her right wrist, during a trip to Las Vegas in September.
Article continues below advertisement
Hulk's engagement comes after a difficult few years involving a bitter divorce battle from ex-wife Linda Bollea and his son Nick's prison sentence for severely injuring a friend in a car accident.
The pro-wrestler even admitted he considered suicide in his new autobiography, My "Life Outside the Ring".