NEWS
I Went Back For Another Tracy Anderson Class...And, Yes, I'm Still Alive!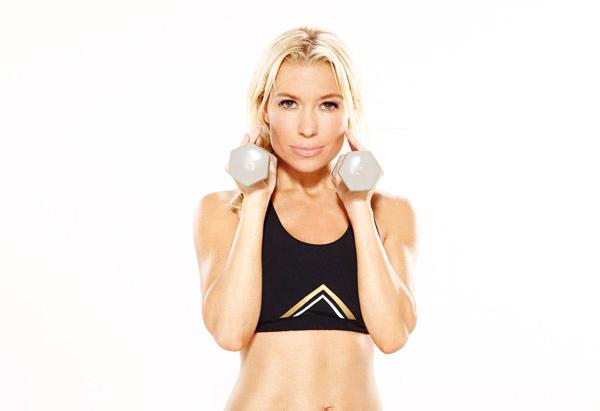 I find celebrity fitness experts equal parts intriguing and intimidating. Intriguing because we've seen the results of their practices and knowledge grace red carpets the world over and intimidating because I'm worried they're going to judge me. I don't work out as often as I should and if I was the sort of person who kept a food diary, it would surely make them cringe. But, still, there's that unrealistic hope merely being in the presence of a health expert, like say Tracy Anderson, will kick start a brand new me.
Article continues below advertisement
OK! News: I Survived a Tracy Anderson Class
Shocker: It won't.
Because as Tracy herself will tell you, she doesn't have magical powers and if the individual isn't all in and right with themselves, miracles will not happen.
On Saturday I headed to Tracy's Brentwood, Calif. studio to participate in the deTAil band workout with a group of other writers. Before class she gifted each of us with a copy of Within: A Spiritual Awakening to Love and Weight Loss by Dr. Habib Sadeghi, a book that addresses the missing ingredient to weight loss: self-love, something Tracy feels is essential for healthy success. Given how irrationally nervous I was to even enter her studio, this was just the introduction to class I needed.
OK! News: Get The Details on Kaley Cuoco's Golden Globes Beauty Look
As you might expect, the deTAil band workout is tough, and Tracy admitted she took the class slower than usual since we were newbies. It involves colorful bands suspended from the ceiling (which, I kid you not, I thought were bright decoration the first time I took class here—I'm an idiot) which are used to provide a full-body workout to sculpt muscles. The resistance the bands provide combined with Tracy's movements left me really sore the next day, and the day after that, but it's the kind of workout you want to do again, because it just feels like it works. You may feel a little stupid when you don't get it right (which is clearly why I need to work on my self-love), but overall you feel really, really good.