NEWS
Ian Somerhalder on Starring in 'Fifty Shades of Grey': "I Absolutely Would Be Up For That"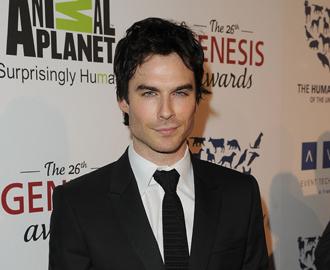 Article continues below advertisement
Ian stopped by Ryan Seacrest's radio show this morning to talk about the latest episode of The Vampire Diaries, but instead, the hunky star dished on his desire to star as Christian in the erotic novel.
"I absolutely would be up for that," Ian told Ryan on "potentially" starring in the movie. "I have the book and I just started reading it. That would be a pretty incredible thing, and hopefully that could pan out, I think."
Elena, played by Ian's real-life girlfriend Nina Dobrev, and his character Damon finally shared a steamy, steamy kiss. And this time, it meant something.
"It was definitely three years for us on the show," Ian said of the wait, "but I think our season's are about six months each. You figure about a year and a half of them knowing each other. It's a pretty big build up!"