NEWS
'Idol' Elimination: What You Didn't See on TV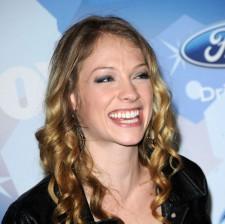 Didi Benami was eliminated from American Idol on Wednesday night and the former waitress wiped away tears as the remaining nine singers gave her a group hug after the show went off the air.
Her performance of "What Becomes of the Broken Hearted" on Tuesday night bombed with the judges, so her ouster wasn't much of a surprise — even to the audience, which hoped Simon Cowell, Kara DioGuardi, Ellen DeGeneres, and Randy Jackson would use their "save" rule for Didi.
Article continues below advertisement
OK! NEWS: AMERICAN IDOL DAVID COOK GIVES BACK IN ETHIOPIA
OK! was in the crowd to see Didi bite the dust. Tim Urban and Katie Stevens made up the bottom three with Didi. Katie was sent to safety and then Didi was eliminated over Tim.
Didi, 22, had told OK! at the Idol top 12 party in March that she loved being a singer and wanted to leave her waitress life behind.
"I was trying to get my music out there. I was trying to write songs, work on them, but with everything that was going on with the economy, it sucked," she confided.
Didi put her singing dreams aside and worked as a waitress.
"I was walking home some nights with like, thirty dollars or nothing because nobody came into the restaurant." she said. "It's just so nice not to have to wait on anybody now."
Article continues below advertisement
But sadly, Didi's TV singing journey ended with her as number ten — good enough to join the Idol concert tour this summer but far from her goal of winning.
Season 7 Idol alum Michael Johns was in the audience Wednesday night.
OK! NEWS: LINDSAY LOHAN APPEARS IN AMERICAN IDOL AUDIENCE
And, as OK! has previously reported, Lindsay Lohan made a surprise appearance in the Idol audience to watch her friend, P. Diddy, perform his new song "Hello Good Morning." But it was hello, goodbye on Lindsay's part, as she left her audience seat before Didi got her walking papers.
The other celebrity who caused frenzy in the crowd was Justin Bieber, who watched Usher perform, and taped a promo for the upcoming Idol Gives Back special and a song for an upcoming American Idol show.
Justin clapped along to Usher's performance of "OMG" with Will.i.am as girls in the audience beamed at the teen singer.
After Justin taped his promo and gave stagehands a big thumb's up, a female fan in Idol's famous "mosh pit" couldn't contain herself and rushed the stage in her frenzy to give Justin a hug.
Article continues below advertisement
OK! INTERVIEW: IDOL CAST OFF LACEY BROWN
An Idol security guard quickly tackled the young fan, but Justin gave her a hug anyway. The show's warm-up comedian joked to the girl, "you got TWO hugs!"
Idol contestant Andrew Garcia has told OK! that Justin is his favorite current artist, and fittingly.
Andrew's mom had to relinquish her front row seat for the teen idol during the show. Although Simon and Andrew's mom have exchanged words during the show, the judge gave her a warm hug during a break.
After Didi was eliminated, the judges spent time after the show giving her hugs and well wishes. Kara was especially nurturing towards the young singer, seeming to not want to let her go.
But, as usual, Idol must move on and it will next week as the contestants are set to tackle The Beatles, performing beloved tunes from the Lennon/McCartney songbook.