NEWS
'American Idol' David Cook Gives Back in Ethiopia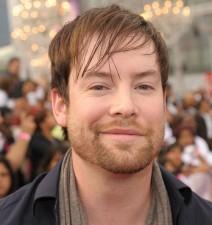 Former American Idol winner David Cook spoke to reporters from Ethiopia today in a press conference call to encourage people to donate to the upcoming Idol Gives Back special.
"I've been extremely moved by this trip," David said. "It's been a huge learning experience for me."
OK! NEWS: IDOL ELIMINATION — WHAT YOU DIDN'T SEE ON TV
The singer is visiting Ethiopia as part of a United Nations effort aimed at helping adolescent girls in the country. The story of David's experience there will be shown on Idol Gives Back, which will air on FOX on April 21. The FOX show, as in the past, encourages viewers to call in donations to benefit relief efforts around the world.
Article continues below advertisement
OK! NEWS: KRIS ALLEN RETURNS TO AMERICAN IDOL TO "GIVE BACK"
The rocker, who won AI two years ago, revealed why he wanted to be a part of the special.
"I remember on my season when we did Idol Gives Back, we watched Annie Lennox's performance and in the background they were showing images of the children," David reminisced. "It tore me apart. My reality is not their reality. You want to help. This couldn't have come at a better time."
OK! BLOG: ANOOP DESAI'S IDOL DISH
David went to Ethiopia to find out about the living conditions and how donations can help girls there. He met a seven-year-old girl at a school whose parents had passed away.
"She's one of the most vibrant, joyous girls I've ever met," David said. "The girls at the school want to learn, to have better education, to have that opportunity. That's inspiring, to see a seven-year-old girl want to build a better future for herself."
Article continues below advertisement
OK! NEWS: AMERICAN IDOL — WHAT YOU DIDN'T SEE ON TV
Elizabeth Gore of the United Nations Foundation, who participated in the press conference call with David, said the girls badly need school supplies to continue their education. Some of them have to go fetch water for six to 15 hours a day because they don't have water holes nearby.
David visited a school and said, "There's definitely a sense of hope. Donating just two dollars to these girls makes a world of difference. I feel kind of guilty about what the people have to deal with on a daily basis. It's something that truly deserves our attention."
He told reporters his Idol fame meant nothing to them: "Very few people here know who I am. We did get the chance to play some music for them."
David isn't sure if he will perform on Idol Gives Back, but he will be part of the special in some way to build awareness about the situation of Ethiopia's young girls.
"People here need a helping hand and we're in a great position to give that to them," he said.