NEWS
'Idol': What You Didn't See on TV — Andrew & Katie Eliminated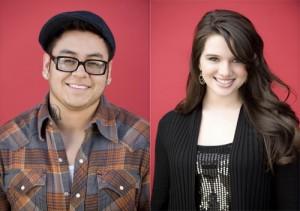 It was "Return to Sender" for Andrew Garcia and Katie Stevens as they were cut on American Idol on Wednesday night in a brutal double elimination. But it wasn't too surprising as the two had a lackluster week singing the tunes of Elvis Presley — and both had been close to elimination before.
Because judges used their only "save" of the season last week to keep Big Michael Lynche in the competition, it meant the bell had to toll for two Idols this time. And voters decided it was time for Andrew, 23, and Katie, 17, to go home.
Article continues below advertisement
That means the magnificent seven remaining on the hit FOX reality show are five guys and only two gals.
OK! LIVE BLOG: AMERICAN IDOL TOP 9 REDUX RESULTS SHOW
Andrew, the father of a little boy, had told OK! during the competition that he wanted to do well to make money so his baby mama could have the big wedding she deserved.
"I think I should be the next American Idol because singing is what I was born to do," he said. "I love every minute of it."
OK! NEWS: AMERICAN IDOL RECAP — ADAM LAMBERT MENTORS ELVIS NIGHT
But Andrew fell short of his dream, as did Katie, who told OK! earlier in the competition, "I should be the next American Idol because not only can I sing; I think the American Idol should be a role model, somebody that people would like to emulate. I think that I am somebody that girls can look up to."
On Wednesday night, however, it was clear both were in jeopardy when the show began.
Article continues below advertisement
"The results were pretty drama-free and although some Andrew and Katie fanatics in the crowd were disappointed, it seemed like the expected outcome," an eyewitness at the taping tells OK! "After hearing the news, the most emotional Idol in the entire studio was Crystal Bowersox, who's widely considered the front-runner. She seemed to take it very hard and cried after both Andrew and Katie got the bad news."
After the Idols performed an Elvis medley, Big Mike got so winded he had to fan himself with his hat while sitting on the stage couch.
"But he and the other Idols got the wind knocked out of them even more when their buddy Andrew was told it was his last Idol night," the eyewitness added. "Crystal blew kisses at Andrew from her seat and wiped away tears as he performed his last song for the Idol audience."
Article continues below advertisement
"During the commercial break afterwards, all the other Idols surrounded Andrew and gave him hugs, but Crystal hung on for dear life. She was very broken up about it. So was Andrew's close friend and roommate, Lee Dewyze, who looked ashen."
As is usual for an eliminated contestant, "off-camera, all the judges walked up on stage and gave Andrew hugs and words of advice."
After that, fans observed Idol alum Elliott Yamin, who finished third in season 5, sitting in the audience as he promoted his appearance on the upcoming Idol Gives Back special set to air next week.
He pounded his heart as a clip was aired of his recent trip to Angola with Kara DioGuardi to see the conditions of the disadvantaged there. He was greeted as an old friend by Kara and her fellow Idol judges Simon Cowell, Randy Jackson, and Ellen DeGeneres.
Article continues below advertisement
Portia de Rossi, casually dressed with her hair in a ponytail, gave her wife Ellen an affectionate wave when she took her second row seat in the audience "to cheer her on, as she does every week," the eyewitness says.
Another Idol alum, Brooke White from season 7, entertained the crowd by performing a duet with Justin Gaston, "If I Can Dream."
Justin, who is on a web-only show of the same name, is Miley Cyrus' ex-boyfriend, and oddly, he was following her on the Idol stage, as she was a mentor and also performed on Idol earlier this season.
Before yet another Idol alum, Adam Lambert (this week's mentor), performed his song "What Do You Want from Me" host Ryan Seacrest, who raised eyebrows Tuesday night with his odd comment about Adam's tongue, "made the crowd laugh by squatting in the laser lights on stage."
After Katie was eliminated, the eyewitness says, "Crystal put her hand up to her mouth in distress and Aaron Kelly, who was sitting next to her, put his arm around her consolingly. Then Crystal wiped away more tears."
CLICK HERE FOR ALL OF OK!'S AMERICAN IDOL NEWS & PICS
When the show went off the air, "the Idols surrounded their fallen comrades in the traditional group hug. The group seems very close, but the writing was on the wall for Andrew and Katie."