NEWS
'American Idol' Recap: Adam Lambert Mentors Elvis Night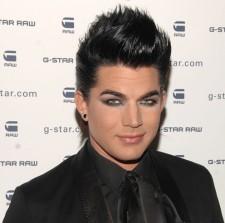 Adam Lambert acted as mentor for Elvis Presley night on American Idol and before the contestants took the stage he explained, "I love Elvis because he was a showman and the complete artist package," and then told Ryan Seacrest of the contestants that, "hopefully, they will take the spirit of Elvis and inject it into their songs!"
Adam explained of his mentoring, "They all have great voices… I told them to wake up a little, have a little coffee… get their tongues out!" And if it were him, he would chose to sing, "I Can't Help Falling in Love."
Article continues below advertisement
OK! BLOG: ANOOP DESAI'S IDOL DISH
First up, Crystal Bowersox took the stage and sang, "Save Me," which Ellen DeGeneres said was, "authentic," and Kara DioGuardi agreed saying that she, "loved the up-tempo." Simon joked that he couldn't relate to the lyrics of lying and cheating, but that Crystal avoided the, "karaoke trap, congratulations!" During her mentor session, Adam told Crystal that she was authentic and when she sings, "it comes from the heart," but advised her to use an electric guitar for some extra edge.
And, making sure that she doesn't have another hospital scare again, Crystal told reporters, "I check my blood sugar to make sure I'm okay," before every show.
OK! NEWS: AMERICAN IDOL WHAT YOU DIDN'T SEE ON TV — SAVE FOR BIG MIKE!
Andrew Garcia also got help from Adam, who told the singer that it left him, "wanting more," and that it needs a little more punch. After performing "Hound Dog," Randy Jackson said, "I hate to say this, but Simon predicted this and that was not good." Simon agreed calling the song, "lazy," and told Andrew that, "all of the coolness was sucked out of you."
Article continues below advertisement
OK! INTERVIEW: IDOL CASTOFF DIDI BENAMI!
Third on the lineup for the night was Tim Urban, who sang Adam's choice of, "I Can't Help Falling in Love." Adam said that Tim "has a really good voice and does some really cool guitar work." During his rendition, Ryan slow danced with a random member of the audience. Kara said that it was her favorite Tim performance ever and Simon agreed claiming that the contestant, "went from zero to hero in two weeks!"
OK! NEWS: RYAN SEACREST'S LAST WORD OUTTTAKES
Following Tim, Lee Dewyze sang, "A Little Less Conversation," which Adam helped him on beforehand. "Just smile and connect more," Adam advised. Randy said that Tim, "was in the zone," while Simon agreed that he, "was on the money!"
OK! NEWS: TOP NINE IDOL CONTESTANTS CHAT LENNON/MCCARTNEY PERFORMANCES
Aaron Kelly broke out of his shell and opted for and Elvis classic, "Blue Suede Shoes." Adam told Aaron to give the song more energy during his mentor session and according to Simon, the performance was, "old-fashioned," and sounded like a karaoke number. Ellen didn't seem too pleased either, but said that Aaron, "gets and A for effort."
Article continues below advertisement
Siobhan Magnus changed her whole look up and was much more sophisticated this evening as she sang, "Suspicious Minds," and used a variety of her singing range. Adam said beforehand that, "she has the pipes, but it sounds a bit sleep to me." The judges had mixed emotions as Randy said that he liked the second half more than the first half. And, Kara agreed that, "Siobhan has two voices and it gets confusing." Simon said that she didn't quite hit the notes as usual.
OK! INTERVIEW: IDOL CAST-OFF PAIGE MILES
Michael Lynche, who was saved last week from elimination by the judges, didn't fail to win them over yet again. After singing "In the Ghetto," Simon said that Mike was terrific and Ellen agreed. "I'm glad we saved you!" I guess Adam's advice for Mike worked as he told the contestant that he, "could pick it up a little bit in the spirit of Elvis."
With the pressure of almost being eliminated last week, Big Mike has learned a thing or two although he claims, "I never left!" "I've realized how hard I'm willing to fight. Regardless of whether it's staying up late to rehearse, regardless of if it's being upset about not being able to see my wife and my baby enough. I've just realized how hard I'm willing to fight for my family's dreams."
Article continues below advertisement
OK! NEWS: LINDSAY LOHAN APPEARS IN AMERICAN IDOL AUDIENCE
Second to last, Katie Stevens was on a mission to show the judges what she is made of and sang a very appropriate, "Baby, What Do You Want From Me?" Adam told her to, "let it out, get throaty," and while all the majority of the judges loved Katie's work, Simon wasn't as pleased citing it as, "loud and a bit annoying." On the contrary, Ellen joked saying that it was a very "horny" song, full of horns and Kara said, "you showed us, girl!"
Katie also shed some light on her upcoming prom, telling reporters after that show, "I don't even know if I'm going to be able to go to prom." But if she does get to go, all Katie has to worry about is who to bring as she has had many offers already with boys willing to send in their phone bills to prove they vote for her. "I got about five more e-mails after that with boys saying, 'I will give you my phone bill'. Now it's ten!"
Article continues below advertisement
And, worse case scenario, Katie can always bring a fellow contestant!
"Actually, Big Mike wanted to be my prom date, so actually I might take him because he just wants to fend off any boy. They're all like my big brothers, all of them."
OK! NEWS: AMERICAN IDOL DAVID COOK GIVES BACK IN ETHIOPIA
To round out the end of the evening, Casey James took the stage with "Lawdy Miss Clawdy." Adam helped Casey change the arrangement of his song to have a better, "climax." While Ellen remarked that Casey looked, "comfortable surrounded by a whole sea of women" Simon said that Casey fell short and that this was a missed opportunity for him.
OK! NEWS: KRIS ALLEN RETURNS TO AMERICAN IDOL TO "GIVE BACK"
At the end of the day, mentor Adam had only good things to say about the night's performances.
"As a group, I said to them that no matter what I say, the judges says, what the blogs say, or what your mom and day say, you have to trust your own voice and your own instincts. Trust yourself an tune everything out. Take everything with a grain of salt because at the end of the day, it's you. And, I think they took that advice."