NEWS
If She Gets Three Strikes, Lindsay Lohan Is Out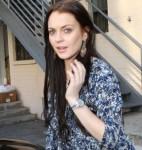 What is it with some stars and their inability to show up on time for anything? Lawyers representing people suing Lindsay Lohan were in court again today asking a judge to order the starlet to show up for the deposition she's skipped out on twice already.
TMZ reports on the proceedings, which involve a suit against Lindsay for what they claim was crazy driving in 2007 on the Pacific Coast Highway.
Article continues below advertisement
Besides asking that she be forced to appear for her deposition in the case, the lawyers also want sanctions against her for failing to appear twice already.
OK! NEWS: SAM RONSON & LINDSAY LOHAN'S SPITTING SPAT
Linds' lawyer Ed McPherson says that she will for sure be there on May 4 for the deposition. The judge isn't going to give her a fourth chance however.
Better be on time, Lilo!