NEWS
I'll Get Liposuction for the Oscar Red Carpet, Jokes Sandra Bullock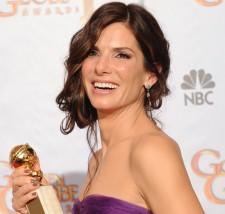 Sandra Bullock is celebrating her first Oscar nomination for her role as the Memphis mom who takes in a homeless teenager in The Blind Side, so how will she prep for the Academy Awards red carpet? She jokes, "I do believe liposuction is in order."
Sandra admits that she refused to set her alarm to watch the Oscar nomination announcement at 5.3oam, declaring on the Today show, "I was asleep like a little tiny baby."
Article continues below advertisement
CHECK OUT THE FULL LIST OF OSCAR NOMINEES HERE
And what about that red-carpet regime for the March 7 ceremony? "I do believe some liposuction is in order," she joked, "a very strict diet regime, and I will acquire a very light English accent.
"I was going to say that I should start wearing glasses, but I already wear glasses, so I am already sort of there."
Sandra could become the first actress to win an Oscar and a Razzie in the same year, since she was shortlisted for a Razzie (or a Golden Raspberry) honoring the worst of Hollywood, for her role in All About Steve.