NEWS
Independent Spirit Award Winners Get Ready for Oscar Sunday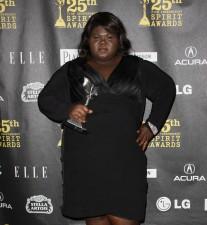 Just a few days before Oscar Sunday, the 25TH Annual Independent Spirit Awards saw many Academy Award nominated stars taking home the prize as attendees predicted what is to come.
Jeff Bridges, who took home the award for Best Male Lead, was a favorite for his performance in Crazy Heart alongside Maggie Gyllenhaal.
"I would love Jeff bridges to win best actor on Sunday and I think Hurt Locker and Precious deserve awards," Olivia Wilde gushed to OK! of her co-star in Tron backstage at the Official Presenters Independent Spirit Award Gifting Lounge, "All of the movies, even Avatar, but the only one that I really want to win is Jeff."
Article continues below advertisement
OK! NEWS: SIZZLING OSCAR COUPLES
But it was Gabourey Sidibe who stole the show, taking home Best Female Lead for her groundbreaking role in Precious on Friday night.
"It's empowering and exciting!" Gabourey gushed to reporters on the blue carpet, "I think it just draws more attention to the film, and that's really what we want. We want as much attention on the film as possible."
And to keep the excitement coming, Lee Daniels walked away with Best Director for the flick, which also won Best Picture.
Alongside co-star Mariah Carey, Precious scored yet another nod with Best Supporting Actress for Mo'nique.
The excited star revealed to reporters that she wants, "everybody" to win at the upcoming Oscars. "It's a beautiful thing baby. So everybody that shows up on Sunday, including you as a reporter, I'm rooting for you too."