NEWS
Inside Sam Lutfi's Deposition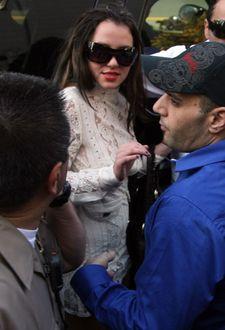 After a quick break for lunch, the deposition of Britney Spears' friend, Sam Lutfi, resumed session this afternoon at 2 p.m. PT in Century City, and OK! has exclusive new details!
A court insider reveals Brit's confidante was asked specifically about whether he may have accepted money from paparazzi photo agencies in exchange for information about Britney, her whereabouts and when she would be "outside on the street on Sundays, strolling or playing with her boys," the insider tells OK!.
Article continues below advertisement
One of the other topics reportedly discussed was whether Sam himself took pictures of Britney and the boys, and then tried to sell them to various magazines and TV shows.
Kevin Federline's attorney, Mark Vincent Kaplan, is reportedly hell-bent on trying to prove that Britney may have been complicit in the alleged deals Lutfi was trying to make with photo agencies, the insider tells OK!.
Sources tell OK! that according to K-Fed and Britney's divorce agreement, neither one of them is allowed to set up photo shoots of the boys without the other's permission.
So, even if Britney did not receive money for pictures of her boys, she was still not allowed be part of any photo shoots involving her sons without Kevin's permission, lest she risk violating the divorce agreement.