NEWS
OK! Exclusive: Jeremy Sumpter and Nathan Kress On Why They Want Zombies In The Sequel Of Into The Storm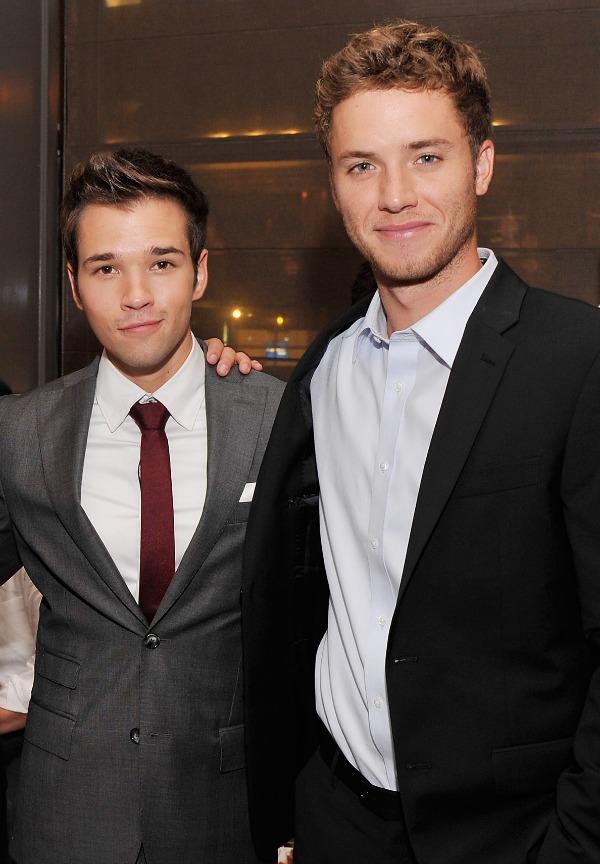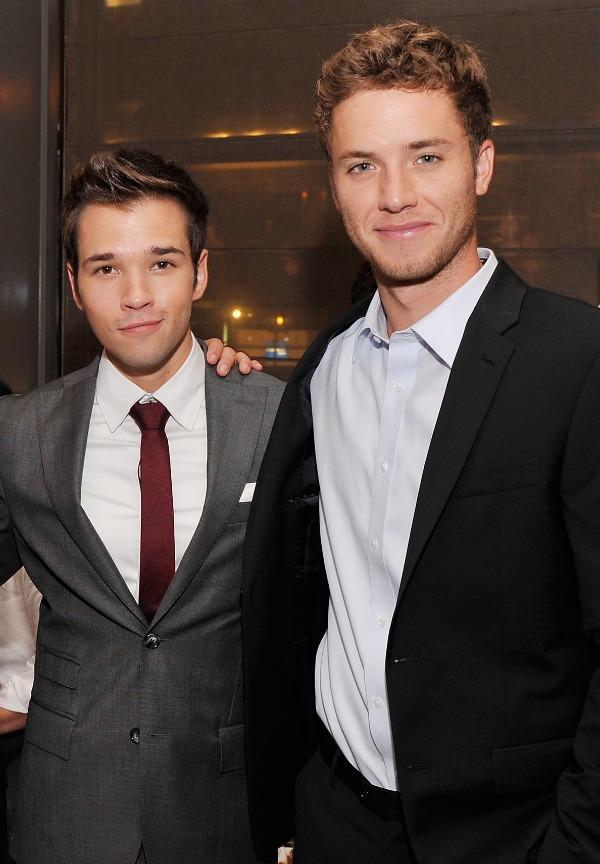 It's been 18 years since the movie Twister came out, so if you're ready for a new tornado movie that does not involve sea creatures, today is your lucky day. Into the Storm is in theaters today and follows the lives of many people experiencing tornadoes like never before. It's thrilling, it's scary, it's exciting and it stars Nathan Kress and Jeremy Sumpter, who we chatted with to hear about their personal experiences with crazy weather, doing stunts on set and why they have already planned a trilogy for the series.
Article continues below advertisement
WATCH: Miley surprised fans at karaoke!
OKMagazine.com: What drew you to doing this film, what excited you?
Jeremy Sumpter: Twister was one of my favorite movies growing up as a kid. I was a huge weather fan, I loved the Weather Channel and the weather man was my hero. When I was 6 years old in first grade, a tornado tore through my elementary school while we were in class. We were in the gym, so we had to rush to the hallways and put our hands over our heads under our lockers while it happened. So when you see the scene in the school in the film, it's really spot on. But I loved it. I wasn't scared at that moment, I mean I was scared, yeah. But I'm a guy that would run towards a tornado and I play a guy who would run the other way. So that's what drew me to this, it's my kind of movie.
Nathan Kress: I like the dimension that the movie has, it's got a little bit of something for everyone. Obviously there's the people that are gonna want to see it for the entertainment value of seeing an awesome spectacle that looks absolutely beautiful. But there's also for the people that want to see the story, and we deliver on that too. When I was reading the script for the first time, the scale and the incredible grandiose descriptions that they had of the storm and the tornado blew my mind. I had such a specific vision in my mind, I really was curious to see if that vision was going to translate to the screen. And I gotta tell you, they did over and above what I think any of us ever imagined. Just the poster, whenever we do on-camera interviews I can't stop looking at the poster, it's so distracting because it's horrifying.
Article continues below advertisement
OKMagazine.com: Even the shot in the trailer of the planes being lifted off the ground is crazy.
JS: And believe it or not, that can happen. Everything in this movie can happen with these tornadoes. There's a tornado in the movie that starts sucking up some fire and it becomes a fire tornado and people say, oh I don't think a tornado is going to pick up a 747. Well this is a two and a half mile wide tornado, it's generating winds 300 miles per hour. A plane only needs 180 mph before it can take off. So obviously it's going to pick up a 747.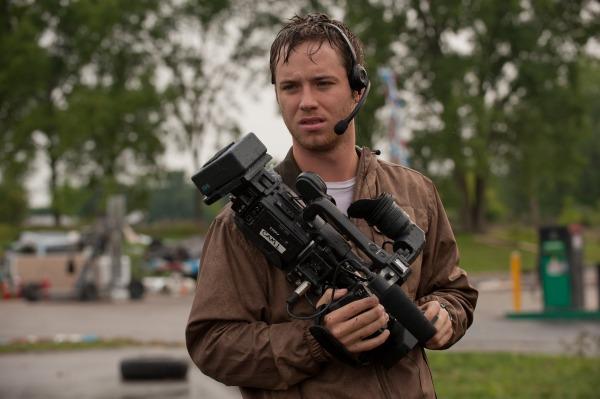 OKMagazine.com: Was there scene that was especially scary for you to shoot?
NK: We had this scene together which was cool, the scene with the fire tornado where were going from the car to the church. That took weeks to shoot because everything was so intricate. We came to the point to have that one take, where everything was going to happen. They brought us over to the weather van and they were like, 'Here's how this is going to work. We get one shot at this so we're just going to run with it and what happens, happens. This morning we rigged up that tree with explosives. That tree is going to blow up, and it's going to fall down as you run towards it. Don't get crushed by the tree. Run around the tree because we don't want you to get hurt. When you run around the tree, this is gonna catch on fire over here and don't get too close to that, you will get burned. This is where the fire tornado's going to pop up. Then you're going to jump over this ditch, but watch out because there's a 100 mph fan blowing from this direction. Don't let it blow you over because it's kind of slippery when you land. Then you're going to run across the street as debris is coming at you, you're gonna go up the slippery steps to the church and you're going to close the door and that's the end of the take.'
Article continues below advertisement
WATCH: Top Chef Duels stars debate two classic sandwiches
OKMagazine.com: Did you leave the set with any bumps and bruises?
JS: Amazingly not! Amazingly nobody was injured. We had some debris in the eyes, we got hit in the face because we had these wind machines that were pumping out wind at 140 mph and we had guys throwing debris like leaves and sticks and stuff and yeah, we were getting smacked in the face all over.
NK: It's amazing how a little leaf will sting like the devil at 100 mph.
JS : While filming that stuff we basically had the tornado. We had a manmade storm that was generating power almost like a tornado, the only thing that wasn't there were the funnels. So that really helped us out a lot.
NK: Yeah, there was very little acting required.
JS: But yeah, amazingly no injuries.
NK: I think Sarah (Sarah Wayne Callies)beefed it once and she skinned her knee but that's it. And that's to the credit of our amazing stunt department. They did an incredible job keeping everything safe. As intense as it was, there could've been so many things that could've gone wrong. I was expecting a broken something by the end of the shoot but all of us made it out ok which is a testament to how great they were as a crew.
Article continues below advertisement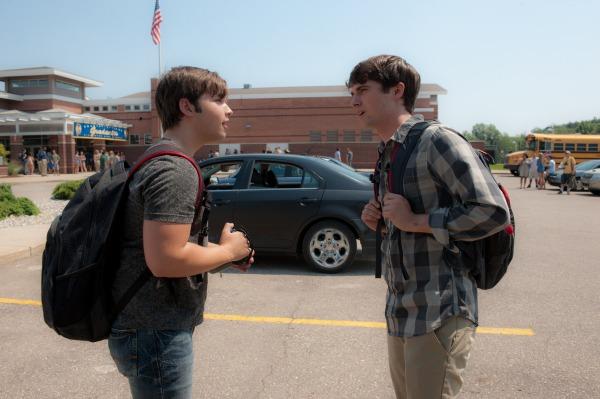 OKMagazine.com: If you found yourself in a tornado today, what would you be grabbing on to?
JS: For me, I'd probably like to grab a Nathan Kress. If I had a Nathan Kress around, then yeah, I'd grab that.
NK: So you want me to be your slave in the post-apocalyptic world?
JS: No, we'd just go World War Z.
NK: I'd be so down for that! I'm there. Yeah, if there's a virus in the tornado and the tornado spreads the virus, and it sends these winds out?
JS: That's why I have to grab me a Nathan Kress.
NK: Then I'm obviously going to have to reciprocate. Well, since he's grabbing me, I don't have to grab him so I'll grab the guns and ammo so if it becomes a zombie apocalypse then I gotta be in charge of the armory, so we're going to be fine. You know what, I think we just came up with the sequel. How can you beat this except by putting zombies in it? Take that Sharknado! We got zombies!
Article continues below advertisement
OKMagazine.com: The only match for the zombies would be the fire tornado.
NK: That's true, but if there were zombies in that then maybe they would catch on fire. Maybe there would be flaming zombies just walking around.
JS: On a real note, I would probably grab my dog. And my pillow. Because there's no telling where I'm going to be sleeping. Some clothes.
NK: Well, if we're being real now...
JS: We're being real now because you know I would never grab a Nathan Kress.
NK: No, I'm worthless! I have this little tin box that ever since I started doing iCarly I would keep tickets and credentials and mementos from events. It's the closest thing I have to a photo album, because my real photo album is in the cloud so I'm not going to lose it. That's probably the most tangible thing of memories that I have that's in one place, so that's the only thing that I think I couldn't replace.
OK! News: What if athletes had LinkedIn profiles?
OKMagazine.com: Unless there's a tornado in the cloud...
JS: Then your stuff is scattered everywhere!
NK: That's number 3, that's the trilogy!
JS: iCloud tornado.
NK: We're going to make millions.
Are you excited to see Into the Storm this weekend? Tell us in the comments below or on Twitter @OKMagazine.