NEWS
'Iron Man 2' Cast Pumps Up the L.A. Premiere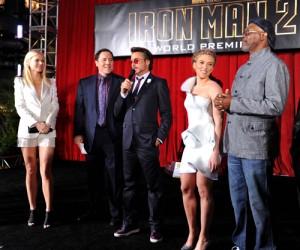 Gwyneth Paltrow, Jon Favreau, Robert Downey Jr., Scarlett Johansson and Samuel L. Jackson hit the red carpet in Hollywood on Monday night for the world premiere of Paramount Pictures and Marvel Entertainment's Iron Man 2. OK! chatted with some of the cast at the El Capitan Theatre about how hard it was getting in shape for the film. Gwyneth told reporters her trainer basically, "pummeled me into submission."
Article continues below advertisement
OK! NEWS: ROBERT DOWNEY JR. ON GWYNETH PALTROW: "I COULDN'T GET HER OFF OF ME"
"My trainer Tracy Anderson basically like pummeled me into submission and made me do all kinds of crazy things," Gwyneth told reporters of how she got into shape for the movie. "She really changed my body for this movie."
The mom of two so working out so much was hard, but manageable.
"Yes, it is but if I have something coming up like this that I am really dedicated to and if I'm home with my kids, I still like to do it everyday but I don't go as crazy," she explained. "I will do cardio one day and legs another day."
OK! NEWS: CAST OF IRON MAN 2 HITS HOLLYWOOD
Mickey, who's shirt seems to be off a lot in the previews admitted he's lost what he had when the film was shot.
"I'm out of shape now," he explained. "So I've got to get back in shape."
But something audiences can expect to see from his character that will apparently love is, "I keep my clothes on more than you'd expect!" he joked.
Samuel was more disciplined like Gwyneth.
Article continues below advertisement
"I work out," he told OK!. "I do Pilates, I do cardio and weights one day a week."
OK! VIDEO: SCARLETT JOHANSSON'S IRON MAN 2 INTERVIEW
So how did Tony Stark get in shape for the movie?
"Well, I downed a lot of Wheaties...." he started to explain before they funny man was pulled away by Gwyneth.
Another guy who was cracking jokes on the carpet was the new addition to the cast, Don Cheadle.
"Yes I was shocked!" Don said of when he was called to do this film. "I wasn't anticipated or expecting it, but I was glad to get it."
Why does he think he got the part?
"I think that they cast me because I have secrets on Robert Downey Jr.?"
OK! NEWS: SCARLETT JOHANSSON IS IRON MAN 2 SEXY
So, what's one thing fans don't know about RDJ?
"They don't know that he is a girl!" he laughed. "It's done now."
"Like anatomically, like a woman," he added. "He has all the parts."
As for what fans don't know about Gwyneth, Don told OK!, "She didn't flush the toilet… no I don't know…"
OK! NEWS: GWYNETH PALTROW WANTS ANOTHER BABY
Now that Gwyneth is done dealing with the comedians she worked with on Iron Man 2, she's looking forward to summer.
"I just want to hang out with my kids and my hubby," she told OK!.
Reporting By Gena Oppenheim