NEWS
Isaac Mizrahi on John Galliano: "The Shame He Brought on Himself Was Enough Punishment"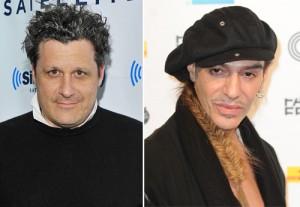 Last night, OK! had the chance to catch up with TV personality and fashion designer Isaac Mizrahi as he hosted the Good Shepherd Spring Gala in NYC. Mr. Mizrahi was in the mood to talk and sounded off on fellow designer John Galliano's latest legal woes.
OK! NEWS: JOHN GALLIANO FACES JAIL TIME — KARL LAGERFELD "FURIOUS" AT DESIGNER'S ACTIONS
"I think that the shame that he brought on himself was enough punishment," Isaac told OK!. "I don't think he needs to serve time or pay any money, seriously. Do you?"
Article continues below advertisement
That was Isaac's response to the news that John could face up to six months in prison and be fined $31,000 for his anti-semitic rant that took place back in October.
But if the former backbone of Dior does indeed pay his dues, Isaac shares his thoughts with OK! saying, "I think he was horribly, miserably wrong. But at the same time, what shame, what ruin. You know what I mean? But on top of that, I don't think he needs anymore ruin."
OK! NEWS: HEAD DESIGNER JOHN GALLIANO SUSPENDED FROM CHRISTIAN DIOR
While John remains in a fashion rift, Isaac is continuing to expand his empire with a brand new line of affordable wedding gowns.
He tells OK! which soon-to-be bride he would most like to see walk down the aisle in one of his designs. "I love Jessica Simpson! She's fearless, isn't she? She always looks gorgeous. She never looks bad," he said. "I think that no matter what that girl wears, you always notice her and that's what I like to do. It's rather simple." He continues, though, "Jessica Simpson can (design) her own damn dress! She's so talented!"
With Jess' wedding to Eric Johnson quickly approaching, Isaac has one request for OK!: "Tell her to call me because I love Jessica Simpson!"
By Evan Real