NEWS
IN THIS ISSUE: Jessica Simpson's Dad Speaks Out!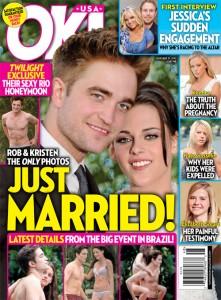 Just after Jessica Simpson announced her engagement to Eric Johnson, her dad, Joe Simpson, sat down with Daphne Barak for his first-ever in-depth interview for this week's issue of OK!. The stage dad opens up about Jessica's future, business and weight and even confronts those nasty control freak rumors.
Daphne, who knows Joe well, says he is overwhelmed with fatherly pride. "I am so happy!" Jessica exclaimed to her father, who tells OK!, "I'm very happy for Jessica."
Article continues below advertisement
Joe also added, "May they have a lifetime of joy and happiness."
OK! GALLERY: JESSICA SIMPSON & ERIC JOHNSON ARE LAX LOVERS
Jessica and Eric's engagement isn't the only thing the Simpson's are celebrating though. "Jessica does not have to work anymore," Joe reveals. Her businesses with be making a turnover of $700 million by the end of this year!
With everything going so well for the Simpson family, Joe must have seen it as the opportune time to let his guard down and finally open up to the public.
OK! NEWS: CHECK OUT JESSICA SIMPSON'S ENGAGEMENT RING!
Joe on being the misconception of him as a control freak: "We let the girls Jessica and sister Ashlee Simpson-Wentz know we are here for them no matter what. They suffered so much in front of the world that I would not imagine it is possible unless each time it happened, we were there to take care of t hem. I am so happy my daughters want to spend time with us. This is one thing people who judge me don't understand."
Article continues below advertisement
OK! NEWS: JOE SIMPSON TWEETS ENGAGEMENT BLESSING TO JESSICA SIMPSON & ERIC JOHNSON
Joe on the secret to The Jessica Simpson Collection's huge success: "We always knew Jessica is Midwest America. Some people, when they move to Hollywood, they change. They buy different clothes, have different budgets. We never forget where we are from, where Jessica is from. And that is the clothes and accessories we are producing."
Joe on Jessica's weight: "I have nothing to do with Jessica's weight. Jessica has been working since she was 12. She was told how to look perfect. How many people can look perfect all the time? I think she's an all-American girl. She is sending a message to the world that it is okay to be normal; it is okay to indulge. Her message is: "Let me be normal! Everyone else gets to do it."
OK! NEWS: JESSICA SIMPSON DEBUTS "MY ONLY WISH" FROM CHRISTMAS ALBUM
Joe on what he wishes for Jessica: "She is an example of a woman who had overcome obstacles and moved forward. If there is one woman that Jessica and I are looking at — and where I want Jessica to be — it is Angelina Jolie."
FOR MORE OF JOE SIMPSON'S FIRST-EVER IN-DEPTH INTERVIEW, PICK UP THIS WEEK'S ISSUE OF OK! — ON SALE EVERYWHERE NOW!