NEWS
IN THIS ISSUE: John's Now a Changed Man for Jen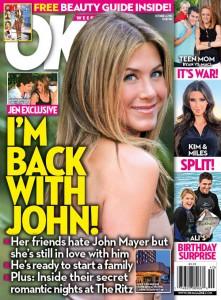 John Mayer may have been "the one that got away" for Jennifer Aniston, but a pal tells OK! in the new issue — on sales everywhere now — that John's been making changes to his life to win Jen back. The main one being to stop blabbing to the press about his personal life!
OK! COVER STORY: JEN ANISTON — I'M BACK WITH JOHN
John's known for being a player and even discussing private details of his relationships with publications like Playboy, but he's now a changed man.
Article continues below advertisement
A friend tells OK! that John convinced Jen, over long phone conversations, that he has changed and "hadn't been dating, that he'd given up one-night stands and hooking up with groupies and was done mouthing off to the press about his private life."
OK! IN THIS ISSUE: FOR JEN, JOHN'S "THE ONE WHO GOT AWAY"
And he's living up to his end and keeping quiet, so far. When asked about the renewed romance, John's camp demurred, saying: "Although the two remain friends, there's no truth to any of these rumors."