NEWS
IN THIS ISSUE: Kate Middleton — Here Comes the Gown!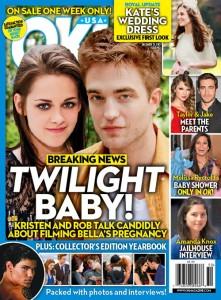 It's hard enough picking out the perfect wedding dress when you're marrying Prince Charming. Imagine trying to do so when you're engaged to a real prince! This week's issue of OK! has all the details on what Kate Middleton will be wearing during her wedding to Prince William this April.
Kate's gown will be so much more than a typical wedding dress. It has to have the power to captivate a nation and represent her transformation from commoner Kate to Princess Catherine.
Article continues below advertisement
OK! IN THIS ISSUE: HOW KATE GOT WILLIAM TO PROPOSE!
"This dress has to be perfect," renowned British designer Bruce Oldfield tells OK!. "A hand-crafted piece of couture, using only the best materials; nothing about the fit or finish can be left to chance. It will be part of history."
Talk about a lot of pressure! The seriousness of the issue is why Kate is taking her time choosing a designer, but the announcement should be made fairly soon. British designers Phillipa Lepley and Bruce (a Diana favorite) are reportedly in the running, along with Daniella Issa Helayel, who created Kate's blue engagement dress, and Elizabeth Emanuel, who with her ex-husband, David, designed Princess Diana's wedding gown.
OK! NEWS: UK BISHOP SUSPENDED FOR SLAMMING WILLIAM & KATE ON FACEBOOK
And while Kate will be advised by Palace aides on protocol (no bare shoulders or anything too slinky), the final say on the dress will be left to the bride.
"Kate decides — with help from her mother," a royal insider tells OK!.
And once the princess-to-be has reached her decision on designer, the work has only just begun. The chosen designer will work with a small, trusted staff under high security which will include private garbage collection (to keep the curious from scrounging for fabric scraps) and guards, explains Camilla Tominey, royal editor of British newspaper the Sunday Express, and OK!'s royal expert in London.
Article continues below advertisement
OK! NEWS: WILLIAM AND KATE CONFIRM WEDDING DATE FOR SPRING 2011!
So while the world waits for Kate to announce the designer, the wait to see the style of the gown is just getting started. Kate will keep the design of the dress a secret until her April 29 wedding, but that doesn't mean one can't speculate as to the type of couture we'll see walk down the aisle this spring.
Stylist Anya Sarre has studied Kate's everyday style, which is a mix of trendy and traditional, and says to expect her gown to have that "something old, something new" mix.
OK! COVER STORY: WILLIAM & KATE WEDDING SPECIAL!
OK! also asked an esteemed panel of designers — including two in the running to design Kate's dress, Elizabeth and Bruce — to give us the inside scoop on the whole process.
When asked what they were designed if honored with the opportunity, Bruce replied: "A simple silhouette with sufficient detailing to give it a sense of occasion, but not so much as to drown her slight frame. Her dress might be traditional and elegant, possibly even demure, but I'm sure she would want a modern twist — a nod to fashion."
Article continues below advertisement
OK! GALLERY: PRINCE WILLIAM & KATE MIDDLETON CELEBRATE ENGAGEMENT; SHOW OF PRINCESS DI'S RING
Princess Di designer Elizabeth explains how "Kate has developed her own sense of style. She very much knows what suits her. I would imagine she would go for something quite simple. I'm pretty certain it's not going to look like Diana's dress."
"The most important thing is to do an absolutely amazing dress for the bride," Elizabeth continues. "The bride is the most important part of this at the end of the day. And...billions of people are watching, as well."
Elizabeth also expressed how touched she would be to design another wedding gown for the royal family.
"It would mean the world to me and be a fantastic honor. If I was entrusted with the task, it would be a huge privilege."
We're sure Kate sometimes wishes she could just have a regular wedding and that her dress would be just a dress, but unfortunately that isn't an option when you're marrying one of the world's most eligible bachelors.
And just like what Jennifer Lopez's daring green gown did for the Grammys or what Halle Berry's flowery sheer dress did for the Oscars, whatever Kate decides to wear is sure to become the defining wedding dress of the century!
FOR MORE ON KATE'S WEDDING GOWN, INCLUDING A SKETCH OF ELIZABETH EMANUEL'S DESIGN, PICK UP THIS WEEK'S ISSUE OF OK! — ON SALE EVERYWHERE NOW!