NEWS
IN THIS ISSUE: Rob & Kristen — Ready to Wed!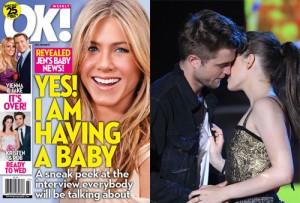 As they've made the rounds promoting their new film, The Twilight Saga: Eclipse, Kristen Stewart and Robert Pattinson have been all smiles, as if they're hiding a wonderful secret. But the secret is now out of the bag — a source says Rob and Kristen are talking about getting married soon.
"I can totally see them doing it," says a friend of the couple. "So many times now they've made us think they had already done it. They'll go away for a long weekend and then, when they come back, Rob will refer to Kristen as his wife, and she'll be all giggly and blushing."
Article continues below advertisement
Recently, when the typically unconventional Kristen, 20, was asked about getting married, her answers surprised many of her fans. "I believe in marriage," Kristen said. "I have a really great family, and I'd like to add to it someday." What Kristen didn't reveal is that she's actually closer to making a serious commitment to Rob, 24, than anyone realize, according to the insider.
"They're just crazy about each other," says the insider. "It's like an addiction."
The couple, says the friend, view getting married as a natural progression in their intense and all-consuming relationship. "It's kind of sad that people cringe at the word 'marriage,'" Kristen recently explained to ETonline.com. "If you're in the right place, it could be the right thing for you."
Article continues below advertisement
Kristen and Rob are in the right place, says the source, adding that an elopement- not a big wedding- could be around the corner for the Twilight lovers.
OK! NEWS: R-PATTZ DEFENDS K-STEW "RAPE" COMMENT
"If any Hollywood couple is likely to elope, it's Rob and Kristen," says the insider. "A big wedding would be her worst nightmare. She hates being in the spotlight, and even if she wasn't a celebrity, she wouldn't want a big ceremony; she hates people fussing over her. She's like an anti-bride."
However, a friend of Rob expects he would push for a slightly bigger celebration, which would include their families. The actor, who is close with his parents, Clare and Richard, would never exclude them from his wedding plans. "Rob is a mama's boy, so if his mom wanted to see him walk down the aisle, he would do it for," says the source.
FOR MORE ON ROB & KRISTEN, INCLUDING EXCLUSIVE DETAILS ON WHAT KIND OF RECEPTION THE COUPLE WANTS, PICK UP THE NEW ISSUE OF OK! — ON SALE EVERYWHERE, THURSDAY!