NEWS
IN THIS ISSUE: What Would the Real Renesmee Look Like?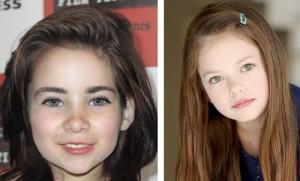 Warning! Breaking Dawn spoiler alerts! Almost more important than the love between Edward Cullen and Bella Swan is the ultimate expression of that love — their half-vampire, half-human daughter, Renesmee. As fans of The Twilight Saga know, that little girl should be close to perfect, and it seems the filmmakers found the perfect girl!
OK! PHOTO: A VERY FEATHERY BREAKING DAWN — FIRST MOVIE STILL ARRIVES!
Article continues below advertisement
OK! asked a police artist to create a portrait of what the child of Edward Cullen and Bella Swan should look like, based on the descriptions of each character in the Twilight Saga. The artist's rendering bears a striking resemblance to 10-year-old Mackenzie Foy, the actress who was cast as Renesmee.
"She sort of looks like Bella, which is absolutely right," Kristen Stewart has said of Mackenzie. "Although the funny thing is she has green eyes and we both have to wear brown contacts together!"
OK! NEWS: BREAKING DAWN READY TO CAST THEIR RENESMEE?
The artist rendering shows Renesmee with green eyes, as Bella imagined her child, since Edward used to have green eyes. But as readers know, once Renesmee arrives, she's inherited Bella's chocolate brown eyes!
CHECK OUT THE ARTIST RENDERING!
FOR MORE TWILIGHT, PICK UP THE NEW ISSUE OF OK! — ON SALE EVERYWHERE NOW!