NEWS
It's the End of the Road for Jessica Simpson and Tony Romo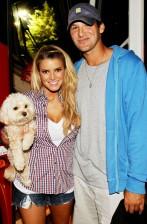 File under the Sad-But-True category — OK! can confirm that Jessica Simpson and Tony Romo did indeed break up on the eve of her 29th birthday.
"Things just weren't working out anymore," a friend of the Dukes of Hazzard beauty tells OK!. "It's really sad for her."
As reported last week, Jess had been planning a Barbie-themed birthday bash, but obviously those plans never came off and Tony, being Mr. Sensitive, went out with a dozen or so of his pals instead to L.A. hot spot MyHouse.
Article continues below advertisement
Tony and Jess had been together since November 2007 and have spent the last several months denying rumors of a split.
PICS FROM JESS & TONY'S RECENT DATE TO AN NBA FINALS GAME IN L.A.: