NEWS
It's A Girl! It's A Tiger! No — It's Ke$ha!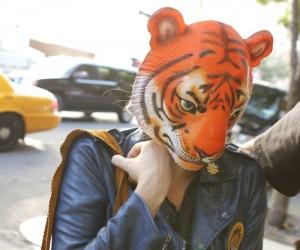 As if putting a dollar sign in her name wasn't enough "look at me" behavior, Ke$ha decided to step out in NYC with a tiger mask covering her face. She was spotted exiting a cab on Tuesday, and the citizens of the city couldn't stop staring. This time it wasn't because a pop star was in their presence, but instead a woman in a tiger mask. Her reasons for sporting the accessory are unknown, but considering it's Ke$ha the world isn't asking many questions.
Article continues below advertisement
OK! GALLERY: KE$HA TAKES ON NYC WITH HER MAIN MAN
One possibility could be that the Tik Tok diva needed a disguise. With all her newfound fame, it can be hard walking down crowded streets without getting noticed. Then again, a tiger mask doesn't do that a great a job either.
OK! GALLERY: KE$HA & HER SHARK MASK TAKE A BITE OUT OF THE BRITS
Another possibility, the more likely one, is that Ke$ha is adding animal to her garbage/trash-inspired style. Instead of hopping on the bandwagon and wearing leopard tights or a zebra striped tank, Ke$ha's taking this trend to a new level. A few weeks ago we spotted her in a gruesome shark mask with a human arm hanging out of it. Maybe this her version of "toning it down."