NEWS
It's Khloe Kardashian's Fault Bruce and Kris Jenner Don't Live Together! See Why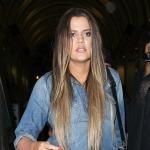 Khloe Kardashian appeared on the Tonight Show and opened up to Jay Leno about her mom and stepdad's decision to live in separate houses.
OK! News: Khloe Talks About Her Problems Getting Pregnant and Her Hormone Treatments
So are Bruce and Kris Jenner heading toward divorce? "Well they're not having problems but they still like to live apart, which is definitely different," says Khloe.
The reality star also reveals that she was responsible for the couple's unique arrangement! "You know Bruce and my mom, they wanted some… I, like in my house, there is a manroom for Lamar Odom. A room not a different house," explains Khloe. "So I think they took my idea and ran with it and they got another house, and Bruce stays there sometimes."
Article continues below advertisement