NEWS
Ivana Trump's Fourth Marriage Ends in Divorce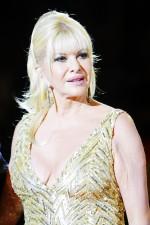 Formerly married to Apprentice tycoon Donald Trump, Ivana Trump, 60, has called it quits on her fourth marriage with Rossano Rubicondi due to the interference of busy schedules on both ends according to Pop Eater.
Ivana laments on her nuptials in a statement saying that she has been on-the-go all over the world taking care of hotel expansion ventures, while Rubicondi was in Italy for two years according to Pop Eater.
Article continues below advertisement
Married for a short run, Trump, who has kept her last name from her second husband of eight years, wed the thirty-seven-year-old Italian actor in April of 2008 at Donald's property in Fla., Pop Eater reports.
Ivana's daughter with Donald, Invanka Trump, recently shared her vows with the New York Observer owner Jared Kushner in her first wedding to date.