NEWS
Ja Rule's Double Trouble: Pleads Guilty to Tax Evasion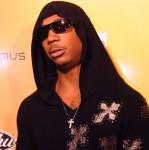 Ja Rule already faces jail time for an attempted weapons-possession charge and now he has pleaded guilty in a separate case for tax evasion in New Jersey!
OK! NEWS: JA RULE SENTENCED TO TWO YEARS IN PRISON STARTING IN JUNE
Ja Rule could be headed to jail for a quite a long time.
The rapper pleaded guilty to three counts of failing to file tax returns with the IRS for five years, according to the U.S. Attorney's Office in the District of New Jersey (via E! News).
Article continues below advertisement
As part of his plea deal, Ja Rule has promised to pay back the approximate $1,137,912 he owes as well as penalties.
OK! NEWS: RAPPER JA RULE PLEADS GUILTY TO WEAPONS CHARGE; JUDGE PROMISES TWO YEARS
"Each of us must pay our fair share to keep this country moving. We will bring federal charges when necessary to ensure the government gets its due," U.S. Attorney Paul J. Fishman said.
Each count has a maximum of one year and it not known how his jail time in his weapons case will work with these new charges.
Bail has been set at $500,000 in the tax case before Ja Rule's sentencing on June 13.