NEWS
Jack Black Reveals Surprise Gift from Angelina Jolie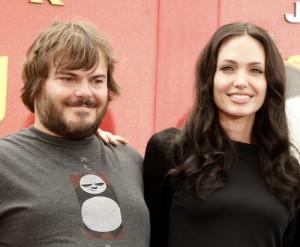 Three years ago he spilled the beans in Cannes about Angelina Jolie's pregnancy with twins, but this time around Jack Black is playing it safe. As the dynamic duo returns to the south of France to promote their sequel, Kung Fu Panda 2, Jack spoke fondly about a nice gesture on Angelina's part.
OK! NEWS: CHAZ BONO WOULD "LOVE TO TALK" TO ANGELINA JOLIE & BRAD PITT ABOUT SHILOH
According to the Huffington Post, Jack recalled, "You were preggers, and I spilled the beans. And my wife, Tanya, was like, `That is the most amazing maternity dress I've ever seen.' You had this gorgeous gown, and she was less preggers, but she had one on the way as well."
MORE ON:
Cannes Film Festival
Article continues below advertisement
Next thing you know, Tanya and Jack received a surprise gift at their home! "And then, what do we get in the mail like the next week? That gown. You sent it over. It was one of the sweetest gifts of all time."
OK! NEWS: ANGELINA JOLIE TEAMING UP WITH LOUIS VUITTON FOR AD CAMPAIGN, REPORT SAYS
As Angelina and Jack reprise their visit in Cannes, it's actually their third trip together at the famous film festival. Aside from Kung Fu Panda in 2008, back in 2004 they starred with Will Smith in Shark Tale. Angelina mentioned "that float on the shark was the beginning of a blossoming friendship. That was our bonding moment." Awww.