NEWS
Jacqueline Kennedy's Tapes "Absolutely Horrified" Caroline Kennedy's Daughters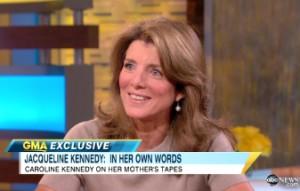 Caroline Kennedy stopped by Good Morning America today to discuss how the contents of her mother Jacqueline Kennedy's tapes frightened her daughters!
OK! NEWS: JACQUELINE KENNEDY ONASSIS "IN HER OWN WORDS" ABC SPECIAL PREVIEW TRAILER RELEASED!
ABC News released new tapes that Jacqueline made in 1964, and her daughter Caroline only heard them in their entirety for the first time this past summer.
"There are flashes throughout where I hear her, and there are parts to me where it sounds like it was a very long time ago, just the way she speaks and the things she said," Caroline explained to GMA this morning.
Article continues below advertisement
OK! NEWS: JACQUELINE KENNEDY ONASSIS BELIEVED LYNDON B. JOHNSON BEHIND JFK'S DEATH? ABC NEWS SAYS NO
In the tapes, Jacqueline said, "Women should never be in politics; we're just not suited for it," which shocked many of her fans.
"It was funny because my daughters listened to it, too, and they were just absolutely horrified: 'Did she really think that?' " Caroline said. "And of course, time has moved on, and it shows you both there are many timeless things in here, but it really is a snapshot of a world that we barely recognize."
So don't hold it against her!
"I think that was very brave of her to do that and to be honest. But it's got limitations," Caroline explained. "It's just, it's a primary source document. It's like a diary or something like that; it's really a snapshot."
Watch Caroline's interview on GMA over at ABC!