NEWS
Jake Gyllenhaal & Anne Hathaway Are Hopped-Up On 'Love & Other Drugs'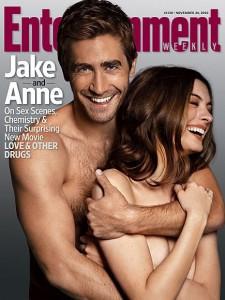 Love and Other Drugs must be intoxicating because Jake Gyllenhaal and Anne Hathaway can't stop smiling and looking cute! The stars stopped by the Today show this morning looking as adorable as the new cover of Entertainment Weekly — except they had their clothes on!
OK! GALLERY: ANNE & JAKE KEEP CELEBRATING LOVE AND OTHER DRUGS
Since Jake and Anne are naked nearly "65 percent" of the time, according to Jake and "62 percent" according to Anne, in their new film, Entertainment Weekly thought they'd make the stars comfortable by also shooting them naked for their sexy new cover.
Article continues below advertisement
"I thought they'd be a little more tense about it than they were, but it was surprisingly low-key." EW's photographer James White said of Jake and Anne. "I guess after making a movie like that with each other, it's not too big of a deal."
OK! NEWS: JAKE GYLLENHAAL & ANNE HATHAWAY — NAKED "65 PERCENT" OF NEW MOVIE
But the co-stars insist that even though they filmed a love scene together in Brokeback Mountain, they still have insecurities.
"There is that revoltingly embarrassing moment when you have to take your clothes off in front of strangers," Anna told EW. "I mean, I don't go to the beach in a bikini for a reason. So I thought, 'Okay, I'm going to be in control. I'm going to do everything properly, disrobe at the last minute, and in between shots get the clothes back on.' But then I found that every time I put my robe back on, it rubbed all the body makeup off, and that added 20 minutes to filming. As with all things in life, the second you stop making it about you and you make it about everyone else, it just got, dare I say, fun."
OK! GALLERY: JAKE & ANNE FLY THE FRIENDLY SKIES WITH SMILES
And it seems like they're still having fun!
In case you missed it, Jake and Anne were both on the Today show this morning and you don't want to miss watching this chemistry!
Watch the super cute interview below!
Love and Other Drugs hits theaters Nov. 24 and Entertainment Weekly has not one, but three sexy covers of the stars!