NEWS
Jake Gyllenhaal Shops For Bling...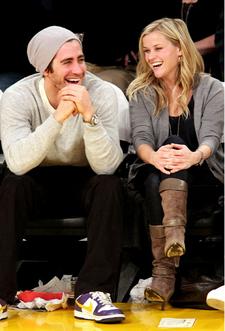 Late last week, Jake Gyllenhaal spent four hours at Fred Leighton, his favorite NYC jewelry shop, and, well, you get a feeling he wasn't there to get his watch fixed!
Was it a Valentine's Day buy for Reese Witherspoon, his girlfriend of a year and a half? An early birthday present? (Reese turns 33 on March 22.) Or is he about to get legal with the Legally Blonde star?
"Jake spent most of his time in the room where they keep the rings," a source tells OK!. "He looked really serious and was taking his time."
Article continues below advertisement
Jake, 28, has been with Reese since she split from now ex-husband Ryan Phillippe in October 2007. "Everyone needs love," she told OK!. "Everyone deserves it."
MORE ON:
Reese Witherspoon
(Splash News Exclusive Photo)
She seems to have found it with the Rendition actor. He's close with her kids, Ava, 9 and Deacon, 5, and flew to L.A. from Paris for the boy's fifth birthday.
"The most important job for a man," Jake says, "is to find the right woman."
Looks like we may have a winner!