NEWS
Jake Pavelka Denies Cheating on Vienna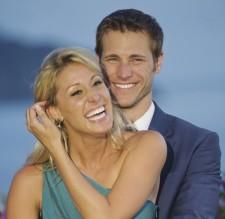 Jake Pavelka refutes claims that he was seeing an ex-girlfriend while wooing Vienna Girardi — and 24 other women — during and after filming of The Bachelor: On the Wings of Love.
A woman alleging to be Jake's former love wants the world to know that Jake isn't the good guy he seems to be, but the Dallas-based pilot says she's trying to use him for her own turn in the spotlight, reports Entertainment Tonight.
Article continues below advertisement
OK! NEWS: JAKE & VIENNA SAW EACH OTHER "ILLEGALLY" FOR MONTHS
"The relationship with the woman was prior to The Bachelor, it simply did not work out," Jake says.
"There was no overlap with that or any other relationship during the show. It is unfortunate that people such as this are trying to financially capitalize on or disparage my incredible relationship with Vienna. I only wish everyone could be as happy for us as we are happy together."
OK! NEWS: THE NEXT BACHELOR WEDDING WILL BE JILLIAN & ED
The woman — who disguised her voice to remain anonymous — called into Steve Kramer's radio show "That Guy Kramer" on Island 106 in Panama City, Florida, saying Jake contacted her after The Bachelor finished filming.
"What I'm saying now has absolutely nothing to do with him and it has gotten so bad and enough people know that we were dating," she said on the radio show.
OK! NEWS: JAKE & VIENNA GO ON A REAL-LIFE DINNER DATE
"He came to my hometown, met my family, met my friends and deceived everyone. And I feel like I'm forced to say something for the sole purpose of defending my honor."
In part of the interview that has yet to air, the radio station says they have confirmed knowledge of contact between the two including pictures and text messages, since filming ended on The Bachelor in November.