NEWS
Jake Pavelka Prepares to Give His Final Rose — And a Ring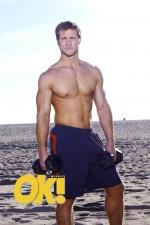 The countdown is on to Jake Pavelka's final rose ceremony tonight on the last episode of The Bachelor: On The Wings of Love, when he'll choose between Vienna Girardi or Tenley Molzahn in a decision that will change his life.
To help him make this choice Jake recruits his family, introducing both women to his parents and siblings when they all arrive in St. Lucia, reports ET Online.
Article continues below advertisement
"This is very serious for me," Tenley tells Jake's mother. "I am looking for the man I am going to spend the rest of my life with."
Jake's mom also quizzes the final two. "In the past, when you and your sister have had problems, how have you handled that?" she asks Tenley.
OK! NEWS: BACHELOR WEDDING: JASON MESNICK & MOLLY MALANEY MARRY
"It is important to me that my daughter-in-laws get along well. I feel like when Jim and I are gone, you guys will be the glue to hold the family together."
Jake's sister-in-laws grill Vienna, who tells them that she believes that Jake is in love with her, not Tenley.
OK! EXCLUSIVE: JAKE & ALI FINALLY TOGETHER AGAIN
After meeting the family, each woman gets one last date with the 32-year-old airline pilot. Jake takes Vienna to a steamy mud bath in St. Lucia's volcanic sulphur springs.
"Every time I kiss Jake, I fall in love with him again," Vienna say but despite her confidence she admits, "I am really scared. I don't want this to be our last date."
OK! NEWS: FORMER BACHELORETTE JILLIAN HARRIS' ADVICE FOR JAKE
The next day is Tenley's one-on-one with Jake, who says, "I definitely felt sparks when I jumped in the pool today with Tenley. That is what life is about — seizing little moments. She didn't think about it, she just jumped in."
After a chat with Chris Harrison, Jake is forced to make a final decision on the finale airing at 8pm on ABC. And at 10.05pm, America will be introduced to the next Bachelorette on the one-hour special, The Bachelor: On the Wings of Love: After the Final Rose.