NEWS
OK! EXCLUSIVE GALLERY: Jake Pavelka's Hot Beach Workout!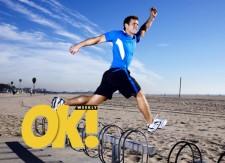 While his season of the Bachelor comes to an end, Jake Pavelka sits down with OK! to share how he keeps his rock hard abs and stays in tip-top shape for his soon-to-be fiancée.
"Yeah, I paint them on," Jake jokes to OK! of his six-pack stomach, but in reality the eligible bachelor works hard for his physique by doing, "lots of leg lifts, hurl throws…I use medicine balls, a lot of weighted abs stuff to build bulk."
Article continues below advertisement
But don't think his muscular body comes easy as Jake reveals to OK! that he works with a trainer for some added help.
The 31-year old does "Mainly isometric or biometric stuff, where you reverse your body weight; lots of push-ups, pull-ups," with his fitness expert.
JILLIAN SHARES HER BACHELOR EXPERTISE WITH JAKE
And seeing as though Jake has a very hard decision to make on Monday's finale of the Bachelor with the contestants narrowed down to Vienna Girardi and Tenley Molzahn, he admits to OK! that he definitely looks for a woman who is aware of her physical fitness.
"I believe that if you neglect your body, you are going to pay for it at some point," Jake gushes to OK!.
COVER STORY: ALI AND JAKE'S SECRET REUNION
Catch the season finale of ABC's the Bachelor on Monday night.
FOR MORE JAKE PAVELKA, PICK UP THE NEW ISSUE OF OK! — ON SALE EVERYWHERE NOW!