NEWS
James Durbin "Pepsi" Comment on 'American Idol' "Shocked" Michael Jackson's Family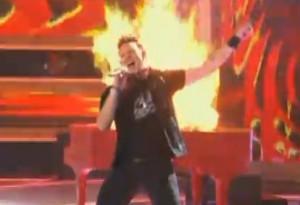 James Durbin "brought the fire" to his Elton John performance on American Idol this week, but now he's getting heat for it. Michael Jackson's family was upset by the comment he made about trying to avoid a "Pepsi moment" on stage.
OK! NEWS: AMERICAN IDOL CONTESTANTS DISH ABOUT HAUNTED HOUSE!
James performed "Saturday Night's Alright" on Wednesday and even had the piano on stage go up in flames as part of his over-the-top performance.
Article continues below advertisement
Ryan Seacrest asked James after his performance if he was worried about getting too close to the flames while he was singing.
"I have a lot of hairspray in my hair to keep it from jumping around — so much so, the one thing I was worried about was having a 'Pepsi moment,' " James said jokingly (via MTV News).
James was reference the 1984 accident that occurred while MJ was filming a Pepsi commercial that he suffered serious burns from. The burns are what allegedly led him to become addicted to pain medication and prescription drugs.
OK! VIDEO: WATCH THIA MEGIA & NAIMA ADEDAPO'S JOURNEY ON AMERICAN IDOL
Well, Michael's family heard about the comment and released a statement to TMZ on Thursday.
"We were shocked to see this. It's nothing to make light of and everybody should be focusing on who was responsible for Michael's death," the statement read.
But James defended what he said on Twitter writing,"For anyone talkin ... I said pepsi NOT MJ! I have no disrespect for Michael. I grew up singing his art. I guess youll take it how you want it."
"Talkin about MJs passing is too soon, he added later. "Making a reference to an incident 25 years ago..not too soon. The stab was at pepsi people."
What do you think? Was James' comment inappropriate or not?
Watch James' performance below!