NEWS
James Franco's Father, Doug Franco, Dies at 63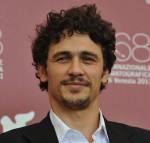 Very sad news for the Franco's! Academy Award-nominated actor James Franco's father died suddenly last week at 63 years-old. The cause of death for Doug Franco is unknown at this time. The Franco's made the official announcent yesterday although James himself hasn't made an official statement about his loss yet.
Doug was a Harvard MBA-holder and a Silicon Valley entrepreneur. He was the father of James and his two brothers, Dave and Tom. According to RadarOnline, his widow Betsy Franco tweeted, "It is true that my sweet, generous husband passed away. He gave so much to his three sons and me, and to many other people, too."
Article continues below advertisement
VIDEO: JAMES FRANCO TELLS THE VIEW TWITTER WAS GETTING HIM INTO TROUBLE
Betsy and Doug met when they were both students at Stanford University. They also were proud parents in the audience at the Academy Awards earlier this year when their famous son co-hosted with Anne Hathaway.
Our thoughts go out to the Franco family during this difficult time.