NEWS
James Van Der Beek Nixes 'Dawson's Creek' Reunion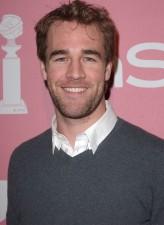 Although Sex and The City, Dukes of Hazzard and Charlie's Angels milked their small-screen success with big-budget blockbusters and 90210 has been revamped for today's viewers, don't expect Dawson's Creek to jump on the nostalgia bandwagon.
The coming-of-age drama, which aired from 1998-2003, made household names of Katie Holmes, Michelle Williams and Joshua Jackson. Despite the popularity of the long-running WB hit, the title character, James Van Der Beek, feels the notoriety his former co-stars enjoy squelches the possibility for Dawson's Creek to return in any form.
Article continues below advertisement
"Probably not," he tells me during a Feb. 8 press day for his thriller Formosa Betrayed. "We did the reunion show at the end of the run. We flashed forward five years, and did that. I think those characters are too media-savvy to do it again."
Still, there's not the slightest hint of resentment.
"I talk to Michelle quite regularly," he admits. "I talk to actually a number of those guys."
For James, 32, who split from wife Heather in November, focusing on the present keeps him moving forward. He guest stars on NBC medical drama Mercy, and hopes the role will usher in his full-time return to TV.
"I'm having a lot of fun right now," he tells me. " I'm having a lot of fun. It's a great character, it's a really good cast and the writing of the show is so good. It is a really good show. I love what they're giving me so far. I could certainly do this for quite a while."
Nevertheless playing the blunt, womanizing Dr. Briggs has its drawbacks.
"I am afraid, God forbid I ever get to the hospital, and there's some nurse who watches the show – they're going to stick me with a needle and go 'oh sorry, does that hurt?'" he says. "My character does not treat the nurses with kid gloves – let's put it that way. I've had nurses on the show – technical advisers – come up to me and say impression 'boy, you are just like doctors that I know.'"
Article continues below advertisement
Even though he's in a new situation, James draws on his Dawson's Creek experience as he navigates Hollywood life.
"One thing I was able to learn after being lucky enough to experience the success that I did at 20 years old is I eventually learned pretty quickly that if it's all about you, you're always going to be a little disappointed," he says. "It's a lot more fun and a lot more fulfilling to be a part of something bigger than yourself."
Mercy, I think he's calling your name.
Catch James in Formosa Betrayed, which hits theaters February 26.