NEWS
Jamie Lee Curtis on 'Freaky Friday' Co-Star Lindsay Lohan: "I Just Have Compassion"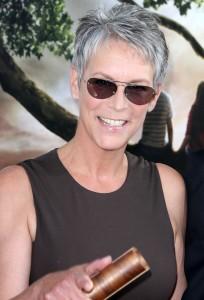 While promoting her new film You Again, in which she plays a mom, Jamie Lee Curtis sounded off on the new generation of young stars, including Lindsay Lohan and Heidi Montag, having trouble dealing with being thrust into the public eye.
Jamie Lee Curtis told OK! on Friday about her former Freaky Friday co-star Lindsay Lohan, "I just have compassion. I don't know anything about the facts of any of the cases."
Article continues below advertisement
LINDSAY LOHAN LETS IT ALL HANG OUT IN THE COURTHOUSE
Jamie says that she feels compassion for Lindsay being in the spotlight.
"What I have is compassion that a young child is thrown into the public eye and then has the media onslaught attached to it. Now, she's made choices, I've made choices. We all have to live with our choices. But I feel empathy."
When asked by OK! about Heidi Montag's plastic surgery—and the antics of other reality celebrities, Jamie Lee (who has openly rejected plastic surgery herself and has let her hair go grey), responded, "I've never met them. The saddest thing for me is that there's a generation of people who from the nature of the TV shows that they do, none of which I've ever seen, they are not actors, they are not people who have even studied film or even really known anything about performing, what it is to be a performer, they are real people who are then thrust into a public spotlight."
MICHAEL LOHAN TO OPEN AND RUN HIS OWN COURTHOUSE
Jaime, who has had much experience as an actress, thinks that the "media circus" plays a role in such drastic celebrity behavior.
"These young people who are thrust into a 24/7 camera on them and what we learn is the thing that makes the press is the most exaggerated behaviors. It's never the mundane things that make the press but they learn that very quickly—what sells, what makes you valuable to us is when you f--- up big time and that's the message they're being given. So then they're thrown out there in this media circus-- and I can never judge one of them because I don't know them--but I feel tremendous empathy for this overwhelming set of circumstances. I couldn't handle having a camera on me 24 hours a day."
Article continues below advertisement
HEIDI MONTAG TWEETS AT FRENEMY LAUREN CONRAD ABOUT 'SUCKY' SPENCER
The former Halloween actress said if she had faced those circumstances as a young star, "I wouldn't be married today if those people chased my husband Christopher Guest and I. My husband's too private—he would have looked at me one day and said, 'sweetheart, I can't do this.' "
Jamie Lee recalled she came of age in a gentler time.
"I dated Adam Ant at one point. I remember being at a restaurant and a guy jumped out of a bush and took a picture of us. That was like the extent of the big uuuh!"
The outspoken star also said she's been offered a reality show—a spot on Dancing with the Stars.
"They've knocked. No one was home," Jamie Lee deadpanned to reporters at the You Again junket. "I just don't have the family time to sacrifice for that amount of work," added the devoted wife and mom of two.
By Carole Glines