NEWS
Jamie Lynn Continues Her Education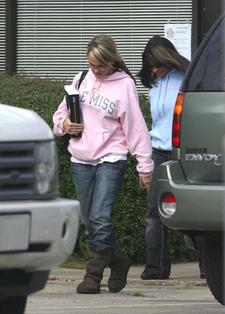 After announcing her pregnancy exclusively in the pages of , Jamie Lynn Spears has already embarked on the challenges on being a new mom, including getting her education.
The 16-year-old Zoey 101 star, and little sister of Britney Spears, was seen with her mom Lynne leaving the Adult Education Center near their home in Kentwood, La. In Jamie Lynn's hands is a book about the GED, the test which would give her the equivalent of a high school diploma without having to attend a proper school.
Article continues below advertisement
Jamie Lynn explained to OK! that she's willing to take responsibility for her decision to continue with the pregnancy, saying, "Now that it's in my lap and that it's something I have to deal with, I'm looking forward to being the best mom I can be."
"I put myself in this position," she added, "An adult position, so I have to act like an adult and take responsibility for what I did."